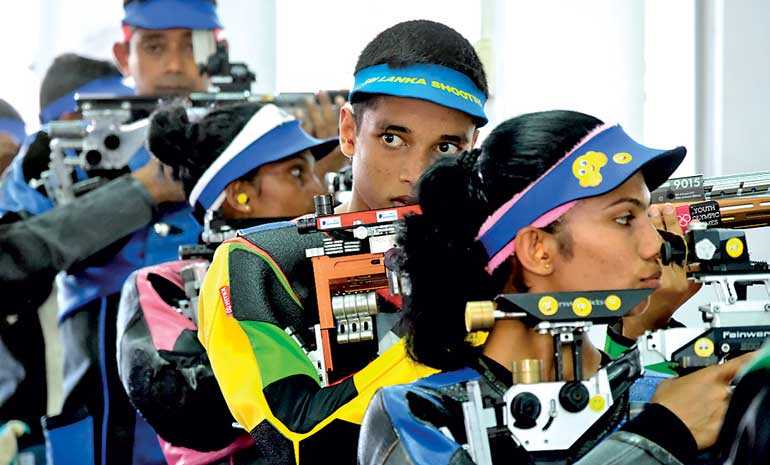 Presently the NSSF is facing a tough task in providing its national shooters a proper place to train - Pic by Amila Gamage
---
Ministry of Sport representative for shooting sports Gamini Costa outlined the need of a national shooting range for local athletes to ready themselves for global and regional events. He made these remarks after serving as an observer for the Annual General Meeting (AGM) of the National Shooting Sports Federation of Sri Lanka (NSSF) held recently.
Costa stated that he was overwhelmed with the unity of the NSSF affiliation and its members, while assuring his cooperation to help the sport reach greater heights.

"It is rather strange to experience such a camaraderie among the officials and members at an AGM. The proceedings took place in a peaceful and professional manner. It's a very good example to follow by other associations," Costa said.

The AGM was held with the main objective of tabling account reports, audited by the Auditor General and the annual report. Both these reports were passed by the membership followed by discussions on the development of the sport at school and regional levels.

One of the main topics discussed was on the much delayed process of setting up of a national shooting range. The NSSF has completed its initial process and at present are waiting for the Ministry of Sports' approval to begin with the construction project.

"It's a fact that shooting sports has the potential of winning international medals. For the athletes to target medals at Asian Games, Commonwealth Games and the Olympics, a shooting range is a must. It's good to see the current administration has made good work for its shooters. But the most essential component is missing," Costa, who went on to explain that shooting sports would be a complete entity, if its athletes had a proper place to hold training session, added.

Costa vowed that he would do everything possible to ensure shooting sports end up with a national shooting range, a venture NSSF President Shirantha Peries initiated when he was first elected in 2015. The project has gone through four different Ministers of Sports ever since and now comes under the newly appointed Harin Fernando.

The infrastructural and logistic aspects of the project has been completed after allocating a potential plot of land near the Waters' Edge Hotel in Battaramulla and is waiting for a financial approval.