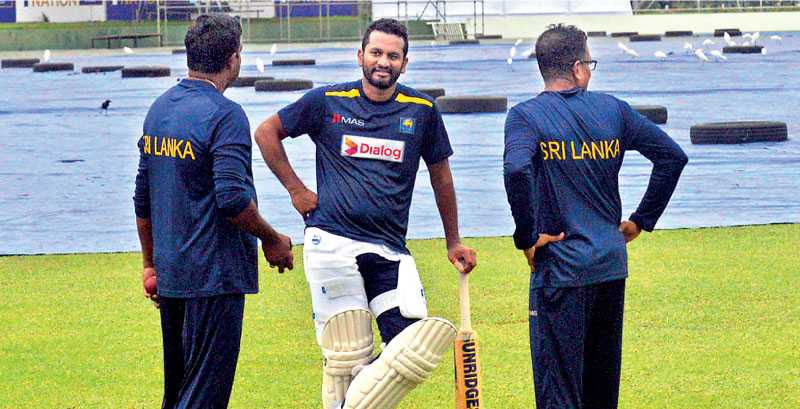 Sri Lanka Test Captain Dimuth Karunaratne, with injured left thumb in plaster, chats with the team staff during a practice session
---
By Sa'adi Thawfeeq
---
Sri Lanka's Test captain Dimuth Karunaratne will know whether he is fit to make the tour of West Indies only on 9 February when a final X-ray is taken of his injured left thumb.

Karunaratne suffered a hairline fracture on his thumb when he was hit by a delivery from South African quick Wiaan Mulder during his fighting century in the second Test at the Wanderers, Johannesburg in January. The injury forced him to miss the two home Tests against England.

"At present, I cannot say anything about the injury. Whether I can tour or not will be decided after 9 February on the X-ray report. The injury is still healing. I haven't practised and not done skills. I have been doing only fitness. I haven't held a bat in my hand and still not batted in the nets," said Karunaratne. "There is a plaster over the wound to prevent it from swelling and it has to be replaced every day."

Karunaratne said that he and the rest of the squad of players who were not part of the second Test against England have been at training at the Khettarama Stadium, SSC and P. Sara Oval from last week.

Questioned whether he will have sufficient time to practice for the tour if declared fit on 9 February, Karunaratne said: "We are leaving on 18 February and the matches will start only on 28 February, which still leaves me with sufficient time for practice."

Sri Lanka are due to play a series of two Tests (which will be part of the World Test Championships), three ODIs and three T20Is.

---