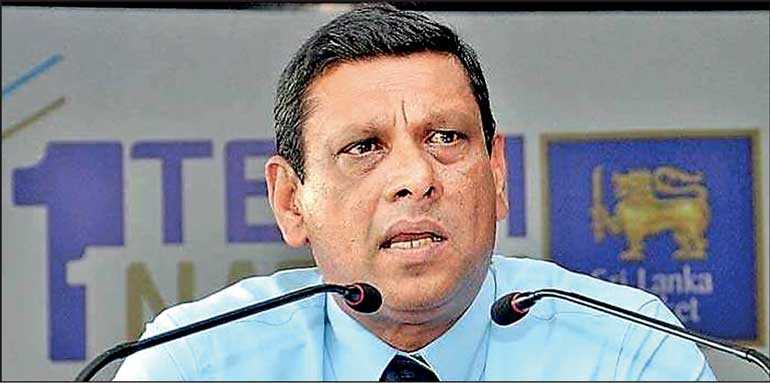 Lanka Premier League Tournament Director Ravin Wickramaratne
---
Over 200 overseas players prepared to undergo 14-day quarantine period
By Sa'adi Thawfeeq
---
It seems Sri Lanka will host at least one international tournament post-COVID-19 for 2020 with the Lanka Premier League (LPL) scheduled to take place from 14 November to 6 December.

The postponement of the three-Test series against Bangladesh due to the strict health guidelines that are in place in the country caused some concern over the future of the LPL, with several overseas

cricketers involved.

However, LPL Tournament Director Ravin Wickramaratne assured that the tournament would go ahead with or without the big stars; some of whom have pulled out because of the quarantine rule and others because they are involved in the Pakistan Super League (due to recommence on 14 November after the COVID-19 shut down in March) and the ongoing Indian Premier League which is expected to end on November 10.

To undergo the 14-day quarantine period prior to the start of the LPL, the players must arrive in Sri Lanka at least by 25 October.

"We can't give every other tournament the green light and keep on postponing our tournament. Whatever players are available we will go ahead with our tournament," said Wickramaratne.

"We informed all the players and player-managers about the 14-day quarantine which is in place and the players that are willing to come will be eligible for the draft. The event sponsors IPG has given

the names of more than 200 players who have given their consent to undergo the 14 days quarantine," he continued.

"There are a few guys who have pulled out as they don't want to go for 14 days because what their managers are saying is that they are playing in the IPL and DFL in a bubble and if they want

to come here into another bubble, they should have lesser number of days, but our health authorities insist on the 14 days and therefore I don't think as a country we should relax. According to the players we can't change the rules. That is where we stand," Wickramaratne emphasised.

Some of the players who have pulled out according to the Tournament Director are big names from the West Indies such as Chris Gayle, Denesh Ramdin, and England's Jonny Bairstow. Wickramaratne said the players' auction is scheduled for Thursday 1 October but it could be postponed to Sunday 4 October.

"We are planning to have the auction on 1 October but we really don't know, it might get postponed by two or three days. What the event sponsors are suggesting is they want to have it on a Sunday but our date plan says it's on 1 October," said Wickramaratne.

"The auctioning will be done by the event sponsor IPT and they will be doing it virtually. It is open for the franchises, Sri Lanka Cricket and IPT. Each team can have a maximum of six overseas players in the

squad but only four can play at any given time. A squad will comprise 16 players plus 4. All Sri Lankan players both national and central contracted will figure prominently," he said.

The 23-match LPL will be played on three international venues at Rangiri Dambulla International Cricket Stadium, Pallekele International Cricket Stadium and Suriyawewa Mahinda Rajapaksa International Cricket Stadium. Five teams named after the cities of Colombo, Kandy, Galle, Dambulla and Jaffna will participate in the League.