ESPNcricinfo: The spinners are skilful, Jasprit Bumrah is improving, and the batting order is ready to move away from formula: these were Virat Kohli's gleanings from the 5-0 clobbering his team handed out to Sri Lanka.
India were tested only once through the series – when Akila Dhananjaya took six wickets in the second match. Otherwise, the contest was incredibly one sided. Four of the top six scorers in the series were India players, Kohli himself leading the charge with 330 runs at an average of 110.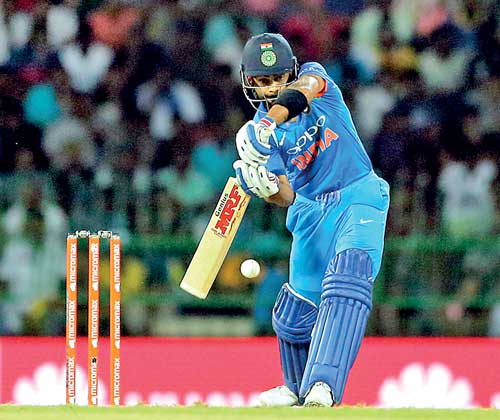 More tellingly, seven of the top eight names on the wicket-takers' list also belonged to India bowlers. Bumrah was the most penetrative bower, taking 15 wickets – six clear of the next best - at an average of 11.26. He had taken career-best figures of 5 for 27 in the third ODI in Pallekele, and claimed the Player-of-the-Series prize for those efforts.

"Jasprit has been our most effective short-format bowler in the last 18 months," Kohli said. "He has really worked on his bowling a lot – especially his length ball, which has picked up more pace. That's very heartening to see because it never lets the batsmen get settled. It's not only about yorkers and slower balls any more. He can bowl a good length ball and nick you off as well, which I think is the biggest improvement in his bowling. Credit to him for shaping his game in that way. Getting a Man-of-the Series award in the subcontinent as a fast bowler – it's always a great thing to achieve."

Though Dhananjaya took nine wicket on his own, India's spinners, too, comfortably outperformed Sri Lanka's as a group. Of those, left-arm spinner Axar Patel took six wickets at an average of 25.66 and maintained an economy rate of 3.85. As with Bumrah, Axar is another bowler who does not allow opposition batsmen to settle, Kohli said.

"Axar, being a conventional spinner, varied his pace and I think it was outstanding," he said. "He didn't let the batsmen get on top of him. That's a remarkable thing – when you don't have any variation in your bowling and you still don't let guys score. I think it's the height that really helps him getting that extra bounce and the extra pace he can generate. He's got a very strong shoulder and people find it difficult to sweep him."

Not that the wristspinners did poorly either. Legspinner Yuzvendra Chahal took five wickets in four matches, but left-arm wristspinner Kuldeep Yadav was perhaps a little more impressive in his two outings, taking three wickets at an average of 23.66.

"Kuldeep and Chahal beinig wristspinners will always keep you in the game," Kohli said. "I certainly felt that all three of them were pretty spot on with attacking all the time. It really helped us get those crucial wickets in the middle overs, and at the same time, helped us control the run rate as well. You might see changes in the bowling attack every now and then but these guys have grabbed the opportunity really well." The batting, meanwhile, seemed to be purring, thanks in no small part to Kohli and the openers Rohit Sharma and Shikhar Dhawan, who between them shared five centuries in the series. India did attempt some middle-order experiments playing Kedar Jadhav, Manish Pandey and KL Rahul in the series – Jadhav and Pandey hitting one fifty apiece. Kohli said that now there was consistency in the top order, the next step was to introduce a little flexibility and X-factor.

"Once we start playing like this and get more confident with the roles that we're given, then we can be more unpredictable," Kohli said. "With the kind of talent that we have in the side if we can be unpredictable as well, then it becomes a lethal combination. Teams will find it difficult to set a pattern against us and we'll always stay ahead of the game or at least try to. More often then not we'll end up executing those things."

India have now won all eight internationals on this tour. One more game remains – the T20I on Wednesday.
---
Tharanga laments Sri Lanka's 'worrying' batting
ESPNcricinfo: As had been the case in the Tests, it was not merely the fact that Sri Lanka were whitewashed that stung, but the fact that they were so categorically outplayed. While there were stretches of decent bowling through the series, Sri Lanka did not muster a single satisfactory score. It is mostly the batting that Upul Tharanga lamented at the end of the series.

"Even after five games we failed to post 250 runs even once, and I'm very disappointed with that," Tharanga said. "It's worrying. Even today we could have made about 270 or 275. We were well placed. But like in the last few games we collapsed. We lost some seven wickets for 53 runs. That has been something that is happening frequently now. We have a month's break before the next ODIs and we need to rectify the mistakes and move forward. In ODIs, if you fail even in one department it is very difficult to compete."

Where India had 11 50-plus scores through the series – including five centuries – Sri Lanka managed only six half centuries. "In ODIs, one of the top four batters need to make a century then only we can go to get something like 280 or 300," Tharanga said. "Most of our players have played less than 30 matches, so they didn't have the experience. No one managed to get a big score."