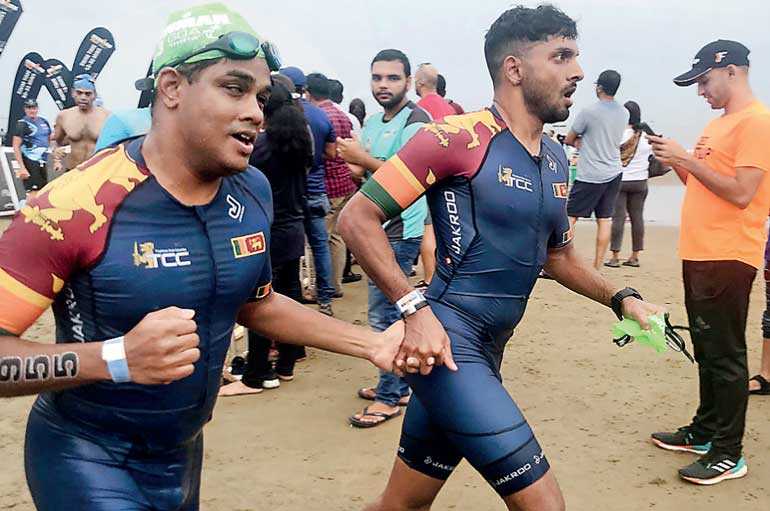 Khalid Oshman and Mithun Liyanage during the 21.1 km run at Miramar Beach, Goa, India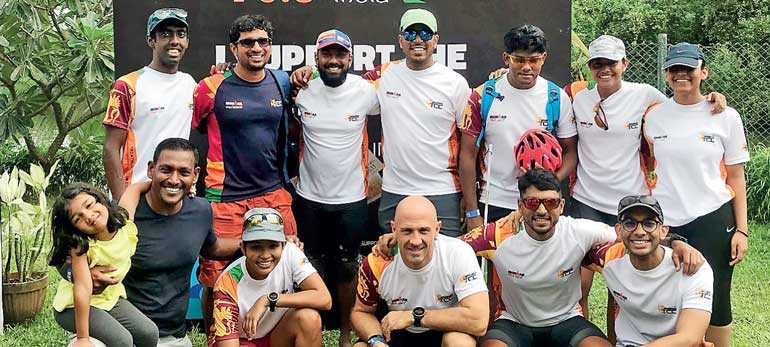 First row from left: Hussain Shameem (from Maldives), Natali De Silva, Denis Crassier (from France), Mithun Liyanage and Jamal Hussain Second row from left: Naveen Goonewardena, Yoosuf Ibrahim (from Maldives), Shifan Thowfeek, Shafraz Junaid, Khalid Ohman, Puvini Kahandawala and Dinithi Perera
---
Khalid Oshman, 34-years-old – a Sri Lankan national and active member of Triathlon Club Colombo took part in India's first Ironman 70.3 (1.9 km Swim, 90 km Bike and 21 km Run), representing Sri Lanka, at Miramar Beach, Goa on 20 October.

Coached by Triathlon Club Colombo (TCC) Co-Founder and Endurance Lab Co-Founder Denis Crassier from January 2018, Khalid Oshman officially became the first Sri Lankan and only visually impaired athlete to complete three triathlons Ironman 70.3 and two full marathons.

Khalid Oshman successfully completed Ironman 70.3 Goa, guided by his triathlon partner Triathlon Club Colombo (TCC) Co-Founder and Endurance Lab Co-Founder Mithun Liyanage. During their race, the duo of Oshman-Liyanage dealt with two tyre punctures, costing them their ranking within the top 10 in Oshman's age Category potentially beating out other fully-abled athletes.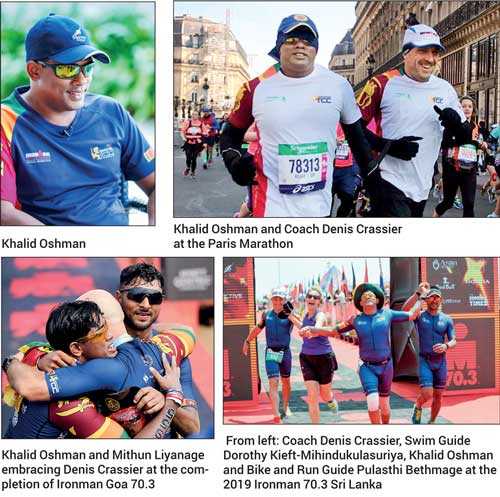 Speaking with Khalid Oshman, the blind-triathlete noted: "I hope I have made them (Denis and Mithun) proud and continue to do so. Every Ironman I partake in is related to the person I am partnered with. The first Ironman was dedicated to his coach Denis and his colleague and friend Lakmali Kahawatte.

"This one was dedicated to Mithun. It's been an uphill climb throughout, but I want to show the world that I [a blind athlete] can compete alongside fully-abled athletes and that the world offers opportunities, not just challenges. We just need to be willing to take the plunge."

The duo were well-received by other triathletes and coaches, including receiving immense media attention in India for their grand feat (including on the cover page of Times of India, the largest draw in the world).

Commenting, Mithun Liyanage said: "Khalid has changed our lives. He says we changed his, but in truth he has done more for us than we could have done for him. His story is one that can inspire a nation and it is abundantly apparent as we see how his story and perseverance has changed the lives of so many already.

"I too am a triathlete (One of the first four Sri Lankan triathletes to partake in Ironman 70.3 World Championship in South Africa, 2018), however, as his acting guide, this may have been the hardest race to date. The discipline, trust and perseverance Khalid has shown in order to compete at this level is no less than outstanding."

The team of 12 athletes representing Sri Lanka at Ironman 70.3 Goa – aptly named 'Unity' (to represent the coming together of men and women, Sri Lankans and foreign nationals, from varying religious backgrounds and physical abilities) comprising of Natali De Silva, Puvini Kahandawala, Khalid Oshman, Mithun Liyanagae, Denis Crassier, Shifan Thofeek, Yoosuf Ibrahim, Hussain Shameen, Naveen Goonewardena and the relay team: Dinithi Perera, Hussain Jamal and Shafraz Junaid.

The 113 km event (triathlon) consisted of a 1.9 km swim along the Arabian Sea, a 90 km bike ride passing the city and a 21.1 km run along the Miramar beach. The Ironman 70.3 Goa acted as a world championship qualifying race.

Commenting, 10 times IRONMAN 70.3 Finisher, 2020 Gold AWA (first 1% worldwide Ranking) qualified for 2020 IRONMAN World Championship in Taupo, New Zealand and Triathlon Coach Denis Crassier noted: "When I first met Khalid in January 2018, I never expected that he would change my life for the positive, so much.

"When you get to know his story, you see life from a different perspective. When you learn of all his accomplishments and everything he has had to and will most probably have to overcome, you begin to realise the value in every moment and in determination."

Khalid Oshman who was born in Kuwait, an orphan, was adopted into a middle-income Sri Lankan family at the age of three and continues to reside in Kolonnawa with his adoptive parents and three siblings. Raised with an agreeable, shy disposition Khalid Oshman was working for Sri Lankan Red Cross as First Aid Coordinator when he lost his eyesight due to medical malpractice at the age of 26.

The duo are flying to Singapore for the Standard Chartered International Marathon on 1 December as well as to Malaysia for Desaru Coast Ironman 70.3 in April 2020.