By Shamseer Jaleel

Former Trinity "Rugby lion", Havies skipper, national ruggerite, and World Rugby Match Commissioner Kavinda Jayasena was appointed as the Rugby Manager of Trinity College for 2018/2019.

At present, he is in New Zealand with the Trinity Under-19 rugby outfit. Kavinda represented his school at all age groups (13, 15, 17 & 1st XV) and at club level, represented Havelock Sports Club from 2001-2002 and from 2006-2015, leading the side in 2008 and 2011. In the year 2003 he came back to his hometown and played for Kandy SC in 2003. He then played for Hatton National Bank in the Mercantile tournament from 2000-2004.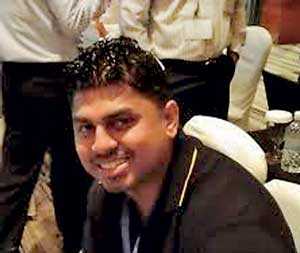 At national level, he represented the Sri Lanka Youth team in 1999, then in 2001 played for the Sri Lanka team in the world cup-qualifying matches held in Kazakhstan, 2001. In 2002 he played for the Sri Lanka team at the 18th Asiad held in Bangkok, and was also a member of the Sri Lankan team for the Singer Sri Lankan Rugby Sevens for many years, which was hosted by Kandy SC. He also represented the Chennai Rugby Football team in the All India Rugby tournament 2007-2008 held in Mumbai.

He won rugby 'colours' in 1999 and one year later won "Rugby Lion" for his outstanding performance in the college rugby-football team.

He is a World Rugby Level One 1, 2 Coach, and Qualified Match Commissioner. He was the Team Manager at Havelock Sports Club (2013, 2015) and coached Lanka Hospitals Rugby team at the Mercantile Rugby Sevens for three years from 2012.

He was the High Performance Team Manager at Sri Lanka Rugby in 2018 under another Trinity "Rugby Lion", Inthi Marikar. He was also the Manager of Sri Lanka Telecom Mobitel Eagles Rugby team at the Sri Lanka Super sevens in 2016 and 2017.