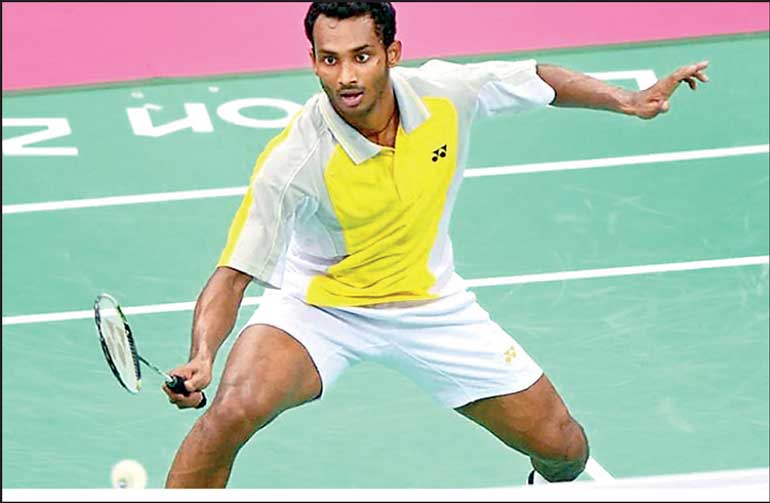 Niluka Karunaratne qualifies for Tokyo Olympics
---
Reigning national champion Karunaratne set to make a third Olympic Games in a row
---
Sri Lanka's most decorated badminton player Niluka Karunaratne will make his third consecutive appearance at the Olympic Games, becoming the fourth Lankan to compete at the Tokyo 2020 Games.

Olympics Sri Lanka Badminton (SLB) and National Olympic Committee of Sri Lanka (NOCSL) confirmed that 36-year-old Karunaratne has received a tripartite commission quota from Badminton World Federation.

"I am proud to be among very few sportspersons in Sri Lanka to make three appearances at the Olympic Games. No badminton player in Sri Lanka has achieved this feat. This will be my last Olympics and my prime objective is to sign off with a win and do my best to raise the bar high for the future of Sri Lanka badminton," Karunaratne told media during a press conference held in Colombo.

"I have great confidence in my abilities. I was the youngest national champion at the age of 16 in 2001. I have won the national titles in all age groups that I competed in. Since 2001, I have won the national championship 17 times and I have never lost to anybody," the 36-year-old shuttler, who has earlier represented the country in the London 2012 and Rio 2016 Games after achieving qualifying marks, said.

He will be joining showjumper Mathilda Karlsson, gymnast Milka Gehani and shooter Tehani Egodawela at the Tokyo Games next month. Only Karlsson has qualified for the Olympics with the rest making their appearances in the games on invitation from the Tokyo Olympic Games Tripartite Commission Invitation Places quota.

Karunaratne has competed in five successive Commonwealth Games from 2002 to 2018. Claiming the first international win in 2011 in Puerto Rico, Karunaratne has won a total of 24 international titles so far, including gold medals in all five continents; also a first in any Sri Lankan sport. "I take this opportunity to thank Sports Minister Namal Rajapaksa and the Sports Ministry for their support. I also thank Sri Lanka Badminton, the High-Performance Project and the National Sports Council led by Mahela Jayawardena, as well as the National Olympic Committee, which helps prepare players for all the major events," Karunaratne said.

"If I can lift the standard of Sri Lanka badminton at least one step above what it is now, the next generation will have a bigger target to achieve. It is my sole intention and I promise you that I will raise the bar high," Karunaratne, the undisputed king of country's badminton, said.