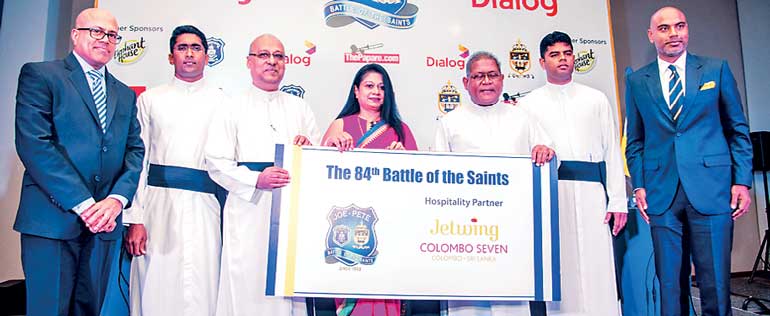 For over 80 years, the Battle of the Saints has been more than just a cricketing encounter between two renowned schools. It has become an event of camaraderie, excitement and a place where entire families gather to reminisce and support their alma mater.

This year, the 84th encounter between St. Joseph's College and St. Peter's College will take place on 2nd and 3rd of March at the P. Sara Stadium. This year, the Joes will be led by vice-captain of the Under 19 team and all-rounder Jehan Daniel while the Petes will be captained by all-rounder and Under 19 youth captain Santhush Gunathilake.

The official media conference for the encounter took place at Jetwing Colombo Seven, attended by all sponsors, teams and with St. Peter's College Rector Rev. Fr. Trevor Martin and St. Joseph's College Rector Rev. Fr. Travis Gabriel. Jetwing Hotels, led by Chairman Hiran Cooray – a proud Old Joe and former cricketer himself – has come aboard as Hospitality Partner for this historic occasion. "Jetwing is proud to once more be the hospitality partner for such a storied event," said Jetwing Hotels Manager – Operations Dmitri Cooray.

"The Battle of the Saints has transcended being just a match, really. This is now a milestone in sporting history, where families and individuals come together to celebrate the spirit of competition, cooperation and remember the schools that moulded them into the people they are today," he added.