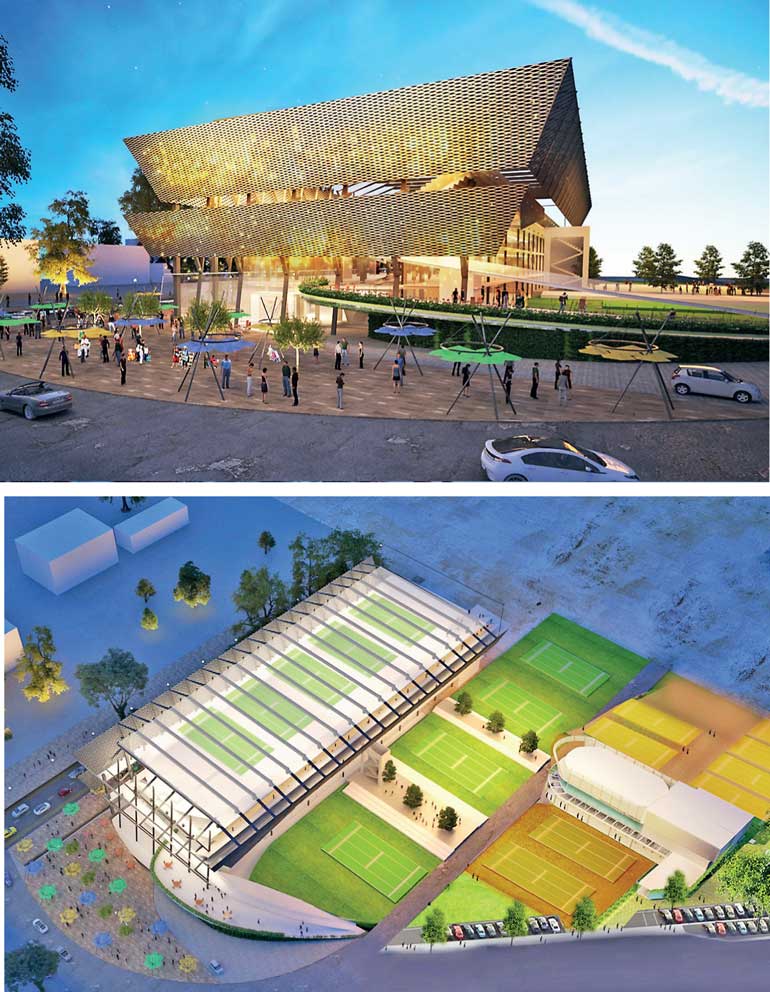 Further reiterating its commitment to uplifting sports in Sri Lanka, the diversified conglomerate JAT Holdings (Pvt) Ltd recently commenced a joint-initiative with the Sri Lanka Tennis Association (SLTA). The foundation stone for the state-of-the-art 'JAT Stadium' at the SLTA was laid at the SLTA premises by Earl of Wessex Prince Edward and the Countess Sophie of Wessex during their official visit to Sri Lanka. Minister of Sports Dayasiri Jayasekara, JAT Holdings Managing Director Aelian Gunawardene and SLTA President Iqbal Bin Isac were also present.

Financed and developed by JAT Holdings, the complex will consist of 80,000 square feet of exhibition space located on 2 levels, for high end interior design, life style and sports products. The 5 world class indoor tennis courts on the top level will be built to international standards in order to host and facilitate players, press and spectators. Ample parking facilities, a refurbished club house, sports library, 100 pax conference facility and restaurant are also on the cards. The existing ground-level outdoor tennis courts will also be revamped and flood lighting added for night time play.

Speaking at the ceremony JAT Holdings Managing Director Gunawardene said: "JAT Holdings has had a longstanding commitment to uplifting all sports in Sri Lanka and are happy to extend this support to the game of tennis. This initiative will no doubt take Sri Lankan tennis to the next level. The design and structure have been meticulously planned out with the involvement of renowned architect Bernard Gomez and our own experts to ensure that it is truly a world-class stadium."

Also speaking at the opening SLTA President Iqbal Bin Isac noted: "We are indeed happy to collaborate with JAT Holdings on this project and are thankful that corporate entities are now coming forward to support all sports in the country. With the right kind of sponsorship and support, tennis in Sri Lanka can also reach great heights. This is only the first step in a great journey."

As the sole local representative of the International Tennis Federation and tennis in Sri Lanka, the SLTA has a broad based national agenda which includes improving standards through training, selection, conducting international and local tournaments and increasing spectator and public awareness of the sport. This joint venture will help ensure that these goals are met as well as provide a much needed world-class showroom space in Colombo for many leading brands. The stadium is expected to be completed by early 2020.