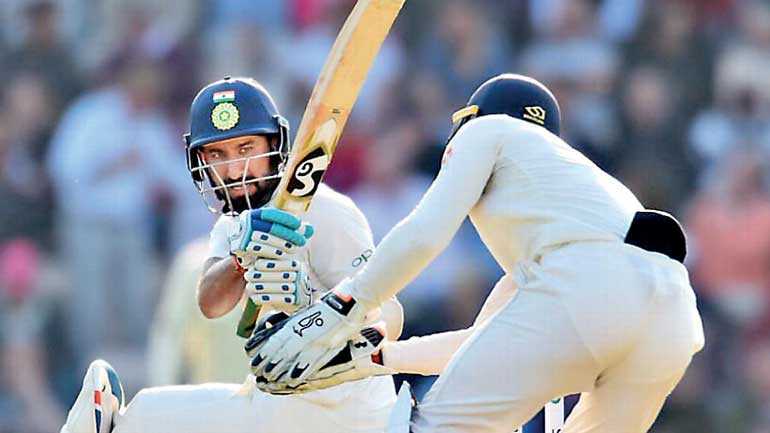 ESPNCricinfo: On Wednesday morning, two days ahead of the Oval Test, every Indian batsman was practising one type of shot: the sweep, and its other variant, the reverse sweep.

Ajinkya Rahane, Virat Kohli, K. L. Rahul, Cheteshwar Pujara, Shikhar Dhawan and Rishabh Pant – in that order – spent considerable time sweeping against throwdowns. It seemed a clear indication of how India were preparing to counter Moeen Ali, their phantom at Southampton.

India's specialist batsmen had largely refrained from sweeping in the first four Tests; R Ashwin and Ishant Sharma apart, no one else attempted the sweep more than four times. India scored 28 runs off 18 balls with this stroke. England, in comparison, played 17 sweep shots and for 23 runs.

Against Moeen, India attempted the sweep and reverse sweep 12 times for 20 runs. The corresponding figures against Moeen when England toured India for five Tests in 2016 and the 2014 series were slightly higher: 43 sweeps (68 runs) and 32 sweeps (45 runs), respectively.

Incidentally, middle-order batsman Karun Nair, who had scored an unbeaten triple century against England in Chennai, had swept the most – 14 times – in 2016, while M. Vijay got 21 runs from the 13 times he played the sweep or reverse sweep. Now, Nair can't break into the XI and Vijay was dropped from the squad altogether. On Wednesday, Nair was giving the specialist batsmen a few tips, in addition to throwdowns.

India have now worked out they should have used the sweep and reverse sweep more to counter Moeen at Southampton. However, the shot does not come naturally to many of their batsmen, including Kohli. On the tour of Sri Lanka in 2015, Kohli played the sweep only six times. When Sri Lanka toured India in 2017, Kohli, by far the highest run-getter with 610 runs in five innings, played the sweep just twice.

Rahane and Pujara are also reluctant sweepers. Rahul plays the sweep confidently, but his challenge is to last long enough to face spin. In eight innings in the series, he has a top score of just 36.

Former India wicketkeeper Deep Dasgupta believes that if a batsman can defend a particular length, he can also sweep it, and that staying in line is immaterial for natural sweepers like Rahul and Dinesh Karthik. The line becomes important for the others only because they may err in picking lengths.

"Guys who are learning to sweep, then the line becomes important. These guys could kneel a little early and find out it is a half-volley and miss it," Dasgupta said. "Then you start picking the line. Even if there is an error in judging the length, and the ball is full or short, if you pick it from outside off stump, you will get away."

It could be that the Indians are focusing on the sweep because the shot can help them counter spin from the rough, and give them a second line of attack and defence. It was by pitching consistently in the rough at different speeds that Moeen exposed India's batsmen. But is sweeping from the rough a wise idea?

Dasgupta recommended extreme caution when doing so. "Sweeping from the rough is not the easiest because it is very difficult to have control over the bounce," he said. "What happens when you sweep is, as long as your bat is coming from top to bottom, your top edges will not carry. It is like a pull shot: if your bat swing is from top to bottom, and even if you don't middle the ball, the ball is only going downwards.

"But if the bat swing is horizontal or from bottom to top, then it is difficult to control, especially on rock-hard pitches, so the bat has to be on top of the ball. So, if you want to sweep, especially from the rough, then make sure you are always on top of the bounce and not under.

"If you are not a natural, or a reluctant sweeper, try and attempt the sweep once even if it is a paddle," he said. "All you have to do is keep an eye on the ball and get the bat from top. By doing that, you have told the bowler 'I can do this'. If you played a normal sweep once or twice or the paddle suddenly, you will find a fielder coming at the 45 [short fine leg]. That might open up another scoring area."

An important element of the sweeping technique is where you plant the front foot. "The more inside [straighter] you take the ball, the finer [behind square leg] you will hit it. The more on the off side you take the ball, the straighter [midwicket] you will hit the ball. If the ball has pitched on the fourth stump, my foot is on the middle stump, I can hit anywhere between midwicket to mid-on. If my foot is on the fourth stump, I will hit between midwicket and square leg. But if my foot is inside the line of the ball, then I can actually start hitting towards fine leg."

What then is the safest spot to sweep from? "If you are not a natural sweeper, naturally your foot will go to the fourth stump," Dasgupta said. "So, if you are going to target square leg, that means you are picking a middle or off stump ball. So, the idea is to pick a line that is outside off stump because even if you were to make a mistake, your foot is outside the line. That way, you look to hit in front of square on the leg side."

Now to see if India's batsmen shed their reluctance and attempt to sweep away the misery against Moeen.