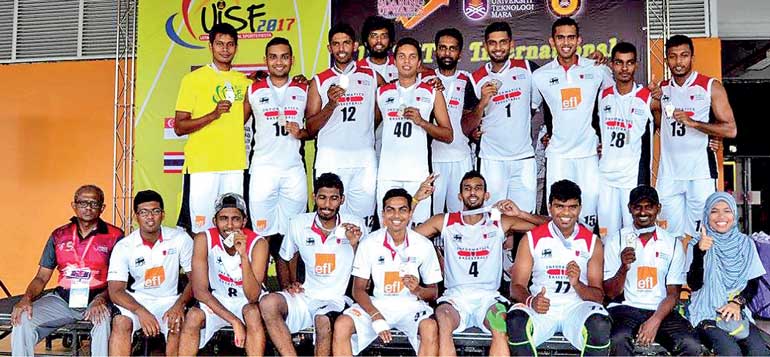 Not limiting itself to educational acumen, the Informatics Institute of Technology (IIT) recently displayed its sporting prowess when its basketball and rugby teams emerged victorious at the 12th UiTM Sports Fiesta 2017, held recently in Malaysia.

The IIT rugby team was awarded the gold medal while the institute's basketball team won the silver medal in the tournament, which included the participation of universities from the Philippine, Thailand, Malaysia, Singapore and Sri Lanka.

Sportsmen and women from several countries in South Asia represented their respective universities and higher education institutes in rugby, futsal, tenpin bowling, badminton, tennis, basketball, table tennis and netball.

The IIT rugby team clinched a comfortable victory over the University Mara Johar Malaysia with a score of 19-5 in the finals. On their way to the championship, IIT was able to beat the formidable rugby team of the University of Maleka in the semifinal stage. The team was represented by Mohomed Naleef, Dinu Perera, Senura Dias, Chatura Alwis, Chathure Wijeratne, Nipun Wickremarathne, Chameera De Silva, Oshada Methmal, Harikeshan Sivaharan, S. Arthesa and Kusal Fernado.

The basketball team, who were last year's defending champions, unfortunately fell short against Diliman College Philippines in the finals. Diliman College scored 61 points while IIT scored 52. The team was represented by Sameera Chanaka (Captain), Shehan Kumara, Gayan Andrew, Malish Dilshan, Minul Veneka, Dilka Sirimanna, Thushan Dharmasena, Thushan Perera, Adil Rahuman, Kasun Chanaka, Nigel Gunawardena and Sajith Vishwanathn. The IIT basketball team was guided by head coach Rasitha Fernando.

"We are pleased about our achievements. I would like to thank the coach and teams consisting of present national players on their excellent performance. Their hard work and commitment has led to their outstanding results in such a relatively short period to win the first-ever international gold medal championship in any format of the game in the history of university sports in this country. I would also like to thank our Chairman and all the directors for believing in our abilities," said IIT Group Sports and Wellness Consultant Chinthaka De Silva.

«It was a great experience for us not only to participate but to emerge victorious in both rugby and basketball. The players and coaches worked hard and put in a lot of effort and sacrifice in practice. I would like to thank our Chairman Dr. Gamini Wickramasinghe, the management, all the players, respective coaches and our staff at IIT for their support and encouragement," stated IIT's rugby and basketball manager Ajith Codipilly.

IIT's basketball and rugby teams have achieved much success over the past year by winning accolades at many prominent sporting tournaments. In 2016, IIT emerged champions in the basketball tournament over Diliman College Philippines at the UiTM Sports Fiesta.

Previously, the IIT basketball team emerged champions at the CIMA 3x3 tournaments and were champions at Fastbreak 2016. Meanwhile, the IIT rugby outfit previously emerged winners at the CPS Inter University Rugby Sevens, bowl runners-up at the UiTM International Rugby Tournament in Malaysia in 2015 and runners-up at the KDU Leaders Trophy 2015.