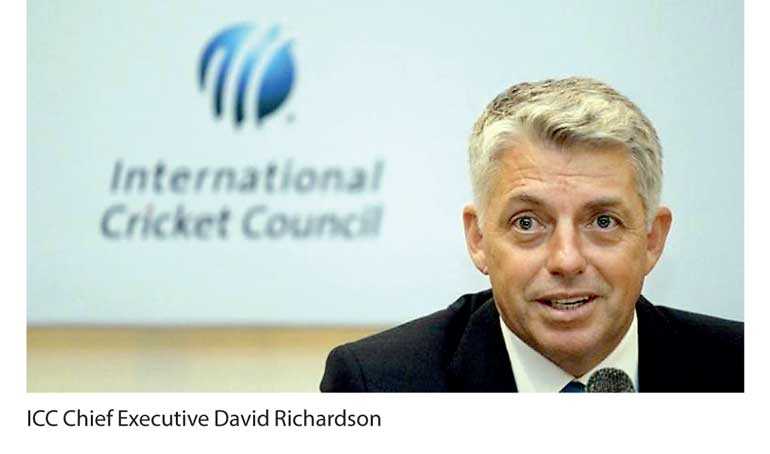 ESPNcricinfo: Sri Lanka Captain Dinesh Chandimal has escaped a more severe ball-tampering charge because the ICC is yet to approve newly-modified sanctions for the offence. Under the revised rules, recommended by its influential cricket committee, that the ICC is likely to pass at its annual conference later this month, ball tampering will be upgraded from a Level 2 offence to Level 3.

As it stands Chandimal, if found guilty, will only attract a Level 2 offence. In addition to any monetary penalty, the maximum sanction under a Level 2 charge is two suspension points which correspond to four demerit points and ban of one Test or two ODIs. Under a Level 3 charge, a player is slapped with four to eight suspension points, the upper limit amounting to six demerit points and a ban of four Tests or eight ODIs.

During their two-day meeting in May, the ICC Cricket Committee, which is headed by former India captain Anil Kumble, recommended that it was time to consider severe sanctions against offences like ball tampering.

The committee was concerned by the recent spate of events during Australia's tour of South Africa in March when several players from both teams attracted disciplinary charges. Consequently, Cricket Australia had banned Steven Smith and David Warner for 12 months and Cameron Bancroft for nine months from playing international cricket for their roles in the ball-tampering controversy in the Cape Town Test.

The ICC's cricket committee, comprising other former international captains, deliberated on raising the penalty for ball tampering to a Level 3 offence from the existing Level 2. ICC Chief Executive David Richardson, who sits on the cricket committee, told ESPNcricinfo that Kumble's panel "came hard" at personal abuse and ball tampering specifically.

According to Richardson, the cricket committee "viewed" ball tampering as "cheating" which went against the spirit of cricket. "Therefore, they (committee) were very strong that we need to increase the sanctions available for that type of conduct," Richardson said. "So we are talking moving both ball tampering and personal abuse, foul language upto Level 3." The cricket committee's recommendations will now be discussed by the ICC's chief executives committee during the annual conference in Dublin later this month before receiving a final ratification from the ICC Board. Richardson pointed out that, if the ICC Board finalises moving the sanctions to Level 3, in future ball tampering could attract a suspension of "minimum of four Tests".

"We are considering bumping it up to Level 3 and even considering the range of penalty slightly higher as well," Richardson said.
Australia's 'focus only on results' led to

ball-tampering scandal: Hazlewood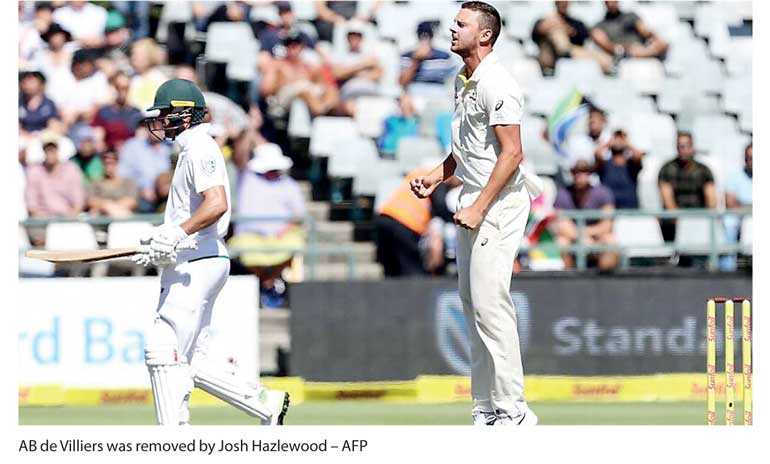 ESPNcricinfo: Australia fast bowler Josh Hazlewood has suggested that a win at all costs mentality played a part in the deterioration of the team's on-field behaviour which ultimately led to the ball-tampering scandal in South Africa.

On field antics had already raised eyebrows during the Ashes and earlier in the series against South Africa – Nathan Lyon was fined for a send-off given to AB de Villiers – before the dramatic events unfolded at Newlands which led to captain Steven Smith and David Warner being banned for a year and Cameron Bancroft for nine months.

Hazlewood, who is missing the current one-day series in England due to a back injury, said it was only the results on the field which mattered and not how the team or players were portrayed, something that he believes the new coach Justin Langer is trying to change.

"It's a big tour always South Africa, coming off the back of an Ashes as well which was quite stressful," Hazlewood told News Corp. "All big tours are stressful and that added pressure we probably put on ourselves as much as anyone to win.

"Where the stress has come from is that we are pretty much measured on our cricket ability, not as people off the field, which we had probably got away from in the past six months, 12 months. A focus only on results I guess drives people to do different things and we are only measured on our cricket success.

"I don't think that's how it is now, I think that's changed a little bit, JL has talked a lot about how we are behaving off the field and we are going to be measured on that as well which is a good sign."

Hazlewood admitted that the Australians didn't grasp the seriousness of the ball-tampering controversy until the following morning when it had started to register back home. Smith was immediately stood down for the remainder of the Cape Town Test before the trio involved were handed their sanctions a few days later.

"We went to bed that night and Australia hadn't woken up yet, when it hit back in Australia and we woke up it was quite surprising how big a reaction it was," he said. "It wasn't massive in South Africa, all the Australian writers know it's going on here and there and around different teams and people have been done in the past, I guess they talked it down a bit if anything but once it hit home the media went the other way and the reaction was massive."

Hazlewood also hinted at agreement with Langer that Smith – who Langer said in an interview with Sky Sports "maybe just wasn't strong enough in his leadership" – lacked the experience needed to keep the team on track but added that these days players are often required to do all their learning on the international stage.

"Cricket-wise I think he was ready, he probably wasn't ready with everything that came with it I guess," he said. "It's a different time now where we're basically cricketers from the time we leave school and we don't really experience life outside of cricket and the cricket environment, back in those times they probably got out in the world, had a few jobs, learned a lot of life lessons. Now you go straight from school into a cricket environment and cricket is all you know."