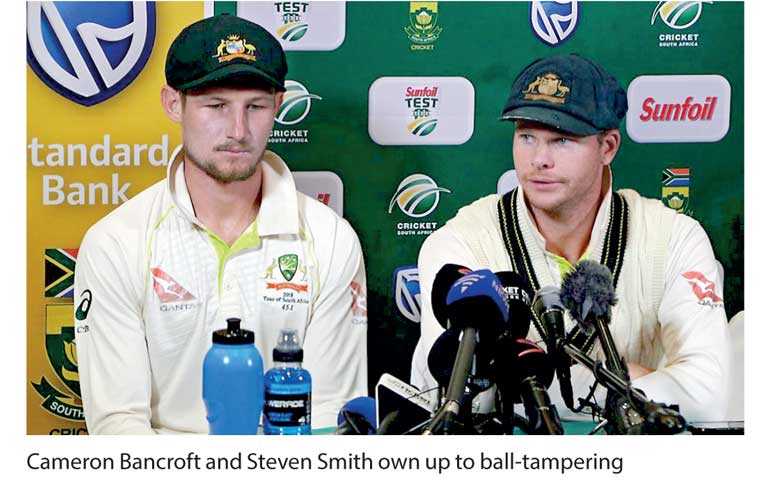 ESPNCricinfo: A player found guilty of ball-tampering can now be banned for up to six Test matches or 12 ODIs. This is among the consequences of the ICC approving significant changes to its code of conduct during its annual conference over the weekend in Dublin.

Changing the condition of the ball, previously a Level 2 offence, is now a Level 3 offence. Sanctions for Level 3 offences have also been hardened: where they would have earlier earned a player eight suspension points – leading to a maximum ban of four Tests or eight ODIs – it will now earn 12 suspension points. Level 4 offences, meanwhile, will earn a minimum of 12 suspension points.

Harsher punishments for ball-tampering have been on the cards ever since the issue reared its head during the Newlands Test in March. The ball-tampering controversy led to Cricket Australia banning Steven Smith and David Warner from international cricket for a year and Cameron Bancroft for nine months. The ICC's code-of-conduct sanctions were far less severe: a one-Test ban for captain Smith and three demerit points for Bancroft, the player who attempted to alter the ball's condition using a foreign object.

After that rancourous series between South Africa and Australia, the ICC cricket committee, headed by former India captain Anil Kumble, recommended that the ICC take a harder view of code-of-conduct violations. At the time, ICC chief executive David Richardson, who sits on the cricket committee, told ESPNcricinfo that Kumble's panel "came hard" at personal abuse and ball-tampering specifically.

The upgraded sanctions are a result of the ICC board approving the cricket committee's recommendations.

Four new offences have also been included in the code of conduct. These are: attempting to gain an unfair advantage (cheating, other than ball-tampering - level 2 or 3), personal abuse (level 2 or 3), audible obscenity (level 1), and disobeying an umpire's instructions (level 1).

The match referee will now hear all Level 1, 2 and 3 charges as well as appeals, with a judicial commissioner only hearing Level 4 charges and appeals. This is significant, because it reduces the scope for players to get sanctions overturned. For example, the judicial commissioner hearing Kagiso Rabada's appeal against a Level 2 sanction overturned a two-match ban for making physical contact with an opponent, ruling that there wasn't enough evidence to say if Rabada's contact with Steven Smith matched the "inappropriate and deliberate" definition covered by the code of conduct.

The ICC has also introduced an appeal fee, which players or members of support staff will have to lodge before appealing a code-of-conduct charge. The fee will only be refunded if the appeal is successful.

The ICC Board has also agreed to look into how member boards can be made accountable for its players' behaviour, whereby boards can be penalised if its players' offences add up to "exceed certain thresholds".
ICC gives SLC election deadline
The International Cricket Council has given Sri Lanka Cricket its first official warning over its continuing administrative malaise, with world cricket's governing body telling SLC that it stands to lose its ICC membership status if elections aren't held before the end of the year.

"The Board agreed to allow a representative of the Sri Lankan Sports Minister to sit as an observer to the ICC Board and Full Council, but requested that elections for Sri Lanka Cricket are held within six months, failing which SLC's Membership status would be considered," stated an ICC media release following their 75th Annual Conference in Dublin.

SLC have been under the control of a Competent Authority, headed by Secretary Ministry of Sports Kamal Padmisiri, since 1 June when the previous board's term had come to an end without fresh elections being held.

Elections had been postponed following a stay order issued by a Court of Appeal, which deemed that election protocol had been violated in the lead up to the elections, which were set to be held on 31 May. The stay order was lifted on 14 June.

Sports Minister Faiszer Mustapha had previously spoken of his hope to hold elections by at least 31 July, but that now looks unlikely, with the elections only likely to take place following the end of the South Africa tour on 14 August.