From left: Hutchison Telecommunications Lanka Manager PR and Corporate Communication Udeni Rambukwella, Head of Sales and Marketing Ramzeena Moreseth Lye, Chief Executive Officer Thirukumar Nadarasa, Sri Lanka Army Chief of Staff and Chairman of the Sri Lanka Army Rugby Committee Major General Sathyapriya Liyanage, Hutchison Telecommunications Lanka Senior Manager Marketing Communication Rajiv David, Secretary of the Sri Lanka Army Rugby Committee Lieutenant Colonel Samantha Samarasinghe and Sri Lanka Army Rugby Committee Assistant Secretary Captain Chiran Lekamge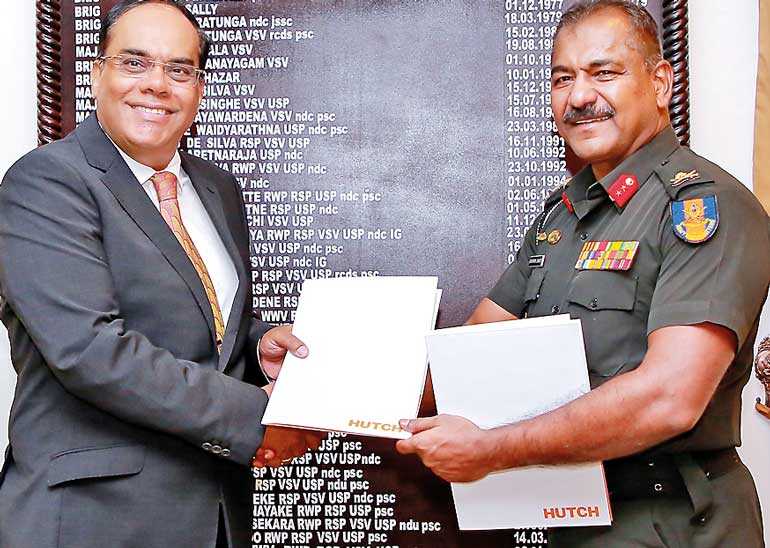 Hutchison Telecommunications Lanka Chief Executive Officer Thirukumar Nadarasa (left) exchanging the sponsorship agreement with Sri Lanka Army Chief of Staff and Chairman of the Sri Lanka Army Rugby Committee Major General Sathyapriya Liyanage
Hutchison Telecommunications Lanka Ltd. joined hands with the Sri Lanka Army as the main sponsor for the Sri Lankan Army Rugby team.

The partnership agreement defines joint commitment between Hutch and the Sri Lanka Army with the common aim of uplifting the talents of rugby players of the Sri Lankan Army whilst also strengthening the rugby sport in Sri Lanka.

Hutch has always shown great enthusiasm and passion towards supporting diverse social segments and sports is one main area that Hutch has embraced over the years.