Chief coach joins Captain and Team Manager
Decision is seen as a compromise as SL Sports Law does not allow for a head coach to be on a selection committee
Move will see Hathurusingha have a final say in team selection but not the picking of the touring squad
SLC says decision was made to give Hathurusingha '100% backing'
By Madushka Balasuriya

Sri Lanka Cricket has agreed to make Chandika Hathurusingha a selector-on-tour, it was revealed at an Extraordinary General Meeting at the SLC headquarters yesterday.

SLC Executive Committee from left: SLC Assistant Treasurer Lalith Rambukwella, SLC Assistant Secretary Ravin Wickramaratne, SLC General Secretary Air Commodore Roshan Biyawela, SLC President Thilanga Sumathipala, SLC Vice President Mohan De Silva, SLC Vice President K. Mathivanan, SLC CEO Ashley De Silva and Tournament Committee Chairman Bandula Dissanayake – Pix by Surenthiran Shanmugalingam
The move will give Hathurusingha a say in team selection, though the decisions surrounding the picking of a touring squad will still reside with the existing selection committee headed by Graeme Labrooy. Both the team captain and team manager will also be selectors-on-tour alongside Hathurusingha.

Hathurusingha is understood to have made the request upon joining, in line with a similar a role he had had during his tenure in Bangladesh when he was part of the selection committee. However, as Sri Lanka's Sports Law does not allow for a head coach to be brought on to the selection committee, the present workaround was established.

"What we have done is that we declare every tour. Once a tour is declared by the board, he becomes a member of the selection committee alongside the team manager and captain," explained SLC President Thilanga Sumathipala.

"We had lengthy discussions and we found that if we are to demand quality performances then we have to give him 100 percent backing. If he doesn't have the final say, then some players might not have the confidence that their coach will back them. Sometimes the coach might say, 'Go get 20 runs in the next one or two overs' and they might get out, and then they might get dropped. But if the selector is made aware of the situation, and the coach says, 'Look he got out because I wanted him to take a risk', then there might be more support for the player."

While the decision to offer a head coach selection powers is a first, Hathurusingha will not be the chief selector-on-tour. That distinction will go to team manager Asanka Gurusinha, who has effectively been in the role since coming on board last year.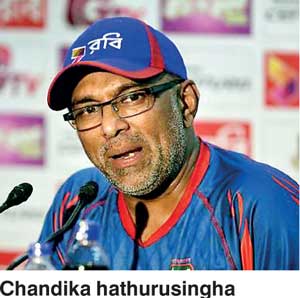 "Our constitution is very clear, the team manager is always the chairman of selectors on tour, as he is the one that is part of the board and therefore has to answer to the board."

With three selectors effectively guaranteed to be on every national team tour going forward, the need for the Chairman of Selectors Labrooy to join up with the team mid-tour is limited. Sumathipala explained that this would only be the case in certain instances, such as when it's a long tour and decisions on squad composition need to be made midway through.

"Sometimes there will be long tours, where we have to take a decision in-between. In these situations we may have to send in the Chairman of Selectors to discuss during the tour. The purpose of doing this was so that they could be together with the captain and the team and find out added insight.

We minimise the need for that by having Mr. Gurusinha as a manager cum selector."

Labrooy will therefore be more involved in the emerging tours, such as the present Under-19 tour of New Zealand, where SLC feels his presence will be more keenly felt.

"There can still be situations where we need to fly in the Chairman of Selectors, like for example, Graeme Labrooy will be flying to New Zealand for the U-19 tour. This is important to us because those are our future players, so he will interact with players, give them confidence and moral support.

We need to have a selector especially in these sorts of emerging tours, as that also builds the confidence of the players because they know there is a selector watching."
Other decisions ratified at Sunday's Extraordinary General meeting include: