---
Victoria Golf Country Resort Junior Championship 2019
---
Junior Golf sensation Haroon Aslam stamped his class at the Victoria Junior Golf Championship 2019 which took place at the Club Golf course in Rajawella recently.
Haroon scored a combined score of 150. This win was in tandem after his victory at the Nuwara Eliya Golf Club Junior Championship where he secured the junior championship.

In the premier age category of 15-18+, Gold Division for Boys, P.A. Dimuthu from Victoria Golf and Country Resort emerged the winner (Combined Gross of 153) with S. Dhuwarshan (159) from Nuwara Eliya Golf Club becoming the runner-up.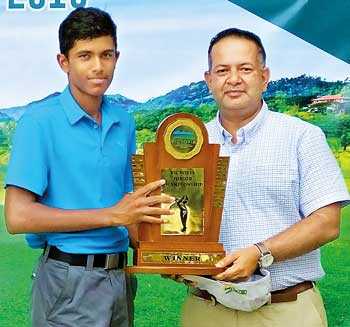 The Boys Silver Division saw consistent performer Sherwain Wavita (192) winning the event from VGCR while Alokshana Weerasinghe (192) from Anuradhapura Golf Club came runner-up.

The Silver Division for Girls was won by Dhevinka Kanag-iswaran (180) of RCGC while Arika Wickramasinghe (188) from RCGC became the runner-up.

In the Bronze Division which played over 11 holes, C. Dharaniyan (85) from NEGC emerged the winner with N. Abdul Rahuman (99) from NEGC being the runner-up.

The Copper division for age group 9+, S Vacksaran (96) emerged the winner with P. Sajith (102) from VGCR being the runner-up. (SJ)


Final results
Overall Champion: Haroon Aslam (VGCR)
Gold Division Boys: Winner P.A. Dimuthu (VGCR), Runner-up S. Dhuwarshan (NEGC)
Silver Division Boys: Winner Sherwain Wavita (VGCR), Runner-up Alokshana Weerasinghe (AGC)
Silver Division Girls: Winner Dhevika Kang-iswaran (RCGC), Runner-up Arika Wickramasinghe (RCGC)
Bronze Division Boys: Winner: C. Dharaniyan (NEGC), Runner-up N. Abdul Rahuman (NEGC)
Copper Division Boys: Winner S. Vacksaran (NEGC), Runner-up P. Sajith (VGCR)