REUTERS: Lewis Hamilton won the Italian Grand Prix for Mercedes on Sunday with an utterly dominant drive that sent the Briton clear at the top of the Formula One world championship for the first time in a year.

The triple champion, who started the last race of the European season from a record 69th career pole position, led Finnish team mate Valtteri Bottas to a runaway one-two finish at Ferrari's home track.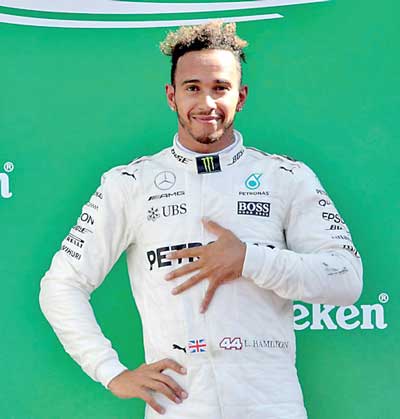 "I love it here in Italy and I love the passion of the fans," Hamilton declared on the podium jutting out over a sea of red-shirted Ferrari fans, with plenty of boos coming his way amid the cheers.

"We did a great job, the team did an exceptional job this weekend," he added.

"Mercedes power is definitely better than Ferrari power."

Ferrari's Sebastian Vettel, who had led the standings since he won the Australian season-opener in March, finished third in the final race of the European season and 36.3 seconds behind the winner. Bottas was 4.4 adrift of Hamilton. "It was a difficult day, a difficult start," said Vettel. "My race was fairly isolated, we tried to keep as close as possible but we simply didn't have the pace.

"You could say it's a bad day but I know the team is on the right way... so I am in a very positive mood despite the numbers." Hamilton is now three points clear of the German, with seven races remaining. Mercedes are 62 points clear of Ferrari in the constructors' standings.

The first driver to win two races in a row this season, with Monza following on from Belgium a week ago, Hamilton now leads Vettel 6-4 on victories in 2017. He has 238 points to Vettel's 235.

The last time Hamilton led the standings on his own was at Monza a year ago, with now-retired team mate Nico Rosberg emerging as the eventual champion.

Hamilton and four-times champion Vettel were level on points this year after China in April, with one win and one second place each.

If Sunday's race was a dull affair, there was at least plenty of sunshine in marked contrast to the steady rain that drenched fans and delayed qualifying for hours on Saturday. Hamilton pulled away cleanly from his historic pole, and fourth in a row at Monza, and was never challenged as he drove to the chequered flag with the minimum of fuss. It was his third Italian Grand Prix win in four years and 59th career victory – only Michael Schumacher, whose pole record he beat, can boast more – and few have been more straightforward.

Force India's French rookie Esteban Ocon, chasing his first podium finish, grabbed second place off the line from 18-year-old Canadian Lance Stroll in the Williams but then faded and finished sixth.

Ferrari's Kimi Raikkonen moved up to fourth initially, to cheers from the crowd, while compatriot Bottas dropped to fifth before swiftly regaining the place. Red Bull's Max Verstappen clashed with Brazilian Felipe Massa's Williams in an incident that forced the Dutch teenager to pit with a puncture.

Vettel meanwhile had started sixth but began to move up through the field, cheered every time by the throng of 'tifosi' on the 70th anniversary of founder Enzo Ferrari's first car, before settling into the loneliness of third place.

Hamilton meanwhile was relentless, pulling away from the four times champion at a rate of almost a second and lapping half the field.

Australian Daniel Ricciardo took fourth place for Red Bull, with Raikkonen fifth. Stroll ended up seventh, one place ahead of Massa, with Mexican Sergio Perez ninth for Force India.