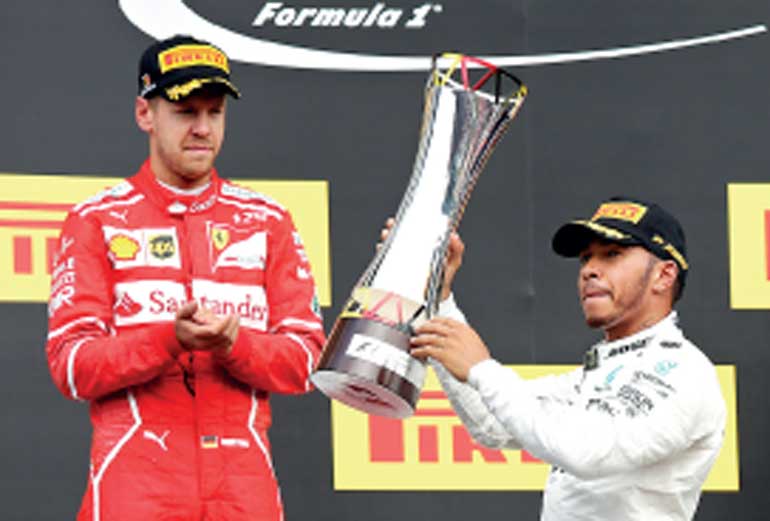 Spa-Francorchamps, Belgium (Reuters): Lewis Hamilton celebrated his 200th Formula One race in style on Sunday with a pole-to-flag Belgian Grand Prix victory for Mercedes that halved Sebastian Vettel's championship lead to seven points.

The Briton's fifth success in 12 races this season, and 58th of his career, came a day after he equalled Michael Schumacher's all-time record of 68 pole positions.

"Sebastian put a great fight on but this is what I said I was coming to do so I did it," Hamilton told the crowd from the podium.

Vettel finished second for Ferrari, 2.3 seconds behind, after pushing his rival all the way without being able to get close enough to make a move stick in what amounted to a two-horse race of relentless pressure.

"It was really intense because every lap I was waiting for Lewis to do a mistake. He didn't," said Vettel, whose next race is Ferrari's home Italian Grand Prix at Monza.

"He was probably waiting for me to make a mistake. I didn't," added the German, who set a race lap record of one minute 46.577 seconds in the closing stages.

With eight races remaining, four-times champion Vettel has 220 points and Hamilton 213.

Australian Daniel Ricciardo took third place for Red Bull after a storming re-start following a late safety car period that had closed the gap to the frontrunners and triggered a flurry of pitstops.

Ricciardo, on fresh ultra-soft tyres, passed Hamilton's team mate Valtteri Bottas to surge into the top three, with the Finn also losing out to the Ferrari of compatriot Kimi Raikkonen as he ran wide.

Germany's Nico Hulkenberg finished sixth for Renault, Romain Grosjean was seventh for Haas and Brazilian Felipe Massa took eighth for Williams.

Spaniard Fernando Alonso was also an unhappy man in the McLaren, the double world champion making a storming start but his Honda-powered car's lack of speed leaving him with an impossible task and increasingly frustrated before retiring. "Embarrassing, embarrassing," he had said earlier.