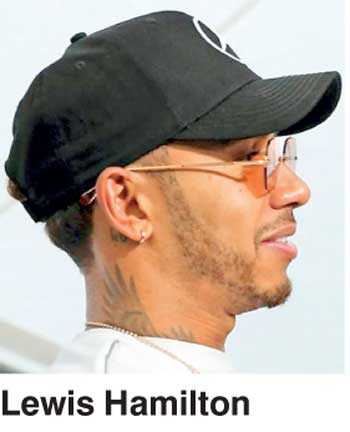 SUZUKA, Japan (Reuters): Formula One champion Lewis Hamilton was comfortably quickest in both practice sessions for the Japanese Grand Prix on Friday as the Mercedes driver piled the pressure on title rival Sebastian Vettel of Ferrari.

Briton Hamilton, who had been fastest ahead of team mate Valtteri Bottas in first practice, lapped the 5.8-kilometer long Suzuka circuit even quicker in the later session, posting a time of one minute, 28.217 seconds.

That was 0.833 seconds quicker than Vettel, who improved from fifth in the morning to third quickest in the second session but had no answer to Hamilton's pace.

Bottas, second again in the afternoon, could get no closer than 0.461 seconds of the Briton's best.

"This track is awesome," Hamilton whooped over the radio a little over half an hour into the 90-minute session, before he had set what would be his fastest lap. "I'm having the best day."

Hamilton, winner of five of the last six races, leads Vettel by 50 points in the standings with four races to come after Japan.

Vettel had hoped the Suzuka circuit would suit his car better than the last two races in Singapore and Russia to ignite his fading title hopes but on Friday's evidence the Mercedes pair will be hard to beat.

Vettel's afternoon effort, while quicker than his best attempt in the first 90 minutes, was still slower than Hamilton's morning benchmark, which the Briton had set on the less-grippy soft tyres.

Max Verstappen, sixth in the morning, was fourth fastest for Red Bull ahead of Ferrari's Kimi Raikkonen. Verstappen's team mate Daniel Ricciardo was sixth fastest in the afternoon after being third in the morning.

Esteban Ocon stayed seventh, the Frenchman once again thebest-of-the-rest in his Force India, and Romain Grosjean was again eighth.

Marcus Ericsson was ninth for Sauber ahead of Kiwi Brendon Hartley, who improved from 17th in the morning to round out the top 10.

Briton Lando Norris, set to make his Formula One debut next season with McLaren, stood in for departing Belgian Stoffel Vandoorne in the morning and ended bottom of the timesheets in 20th.

Vandoorne returned to the car in the afternoon but could do no better, once again propping up the order.

The sessions, run in overcast but dry conditions, were largely uneventful though Fernando Alonso had a scare during the first session, the Spaniard losing control of his McLaren and sliding off into the gravel.

Hamilton also had a close call in the morning, jinking hard to avoid Pierre Gasly's Toro Rosso and taking the escape road at the final chicane after the Frenchman appeared to back off on the racing line.