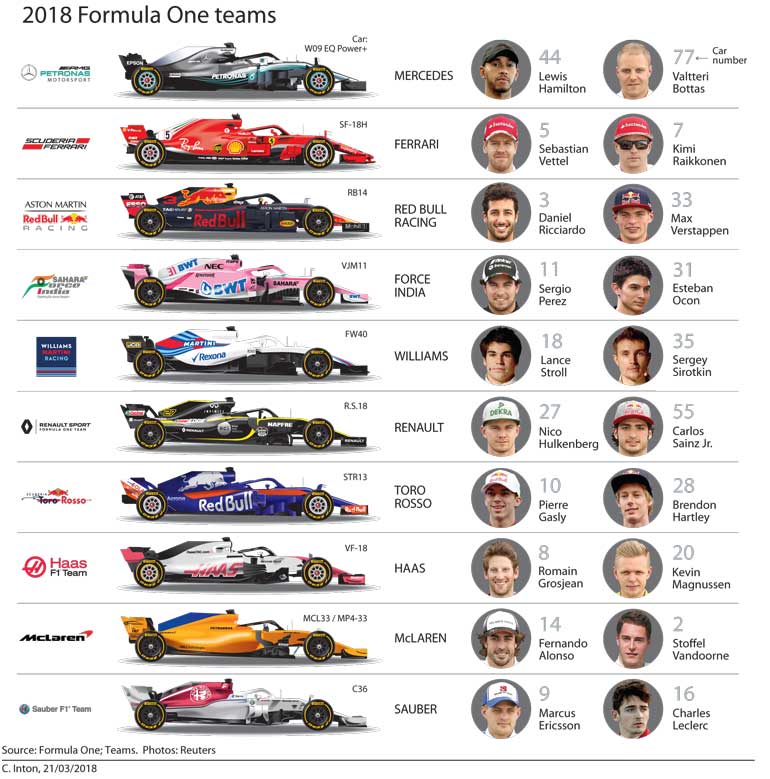 MELBOURNE (Reuters): The first instalment of what Formula One fans hope will be a genuine season-long tussle kicks off on Sunday as four-times champions Lewis Hamilton and Sebastian Vettel lock horns at the season-opening Australian Grand Prix.

This year marks the first that two quadruple champions are competing in the same season and their battle to see who joins Argentine legend Juan Manuel Fangio in second place on the all-time list with five titles promises to light up the series.

Michael Schumacher leads the way on seven world titles.

Hamilton emerged well on top for Mercedes at the end of 2017 after Ferrari's Vettel made the early running, but their rivalry added plenty of spice, the pair banging wheels on the track in Azerbaijan and exchanging threats off it.

Hopes are high for more tense duelling to spark interest in a championship that has generally proved a procession for the Silver Arrows, who have swept the drivers' and constructors championships in each of the past four years.

Much will depend on whether Ferrari's SF71H can keep German Vettel within striking distance of Hamilton in his Mercedes W09, which the Briton raved about during pre-season testing.

Lap times at testing can be misleading but there remains a conviction that Mercedes will head into Sunday's race at Albert Park, as always, the team to beat.

"We know that Mercedes is a little bit ahead of everyone and is dominating the sport for the last four years," McLaren's twice world champion Fernando Alonso told Reuters on Wednesday.

"And they are the big favourites again to start the new season."

Mercedes are eager to see what the W09 can do at the lakeside circuit in Melbourne, with technical director James Allison saying it would "blow away" the W08 which garnered 12 race wins in 2017 and a fourth consecutive constructors' title.

Hamilton, however, was guarded about their opening weekend prospects, believing Red Bull could be as much a threat to the Silver Arrows as Ferrari. "I think at this time of the year everyone is trying to hype someone else up and we are the perfect target because we are the world champions," the Briton said at a Melbourne event with sponsor Petronas on Wednesday.

"From what I understand, I think Red Bull and Ferrari are very close. Potentially we are either level, just behind or maybe just ahead of the Red Bulls as far as I'm aware." Ferrari have kept a low profile in the lead-up to the race but home hope and Red Bull driver Daniel Ricciardo emerged on Wednesday to express hope for a "statement" performance.

"Every year, the team works hard to build a fast car but, come testing, we've never really had much to show for it," the Australian told reporters.

"This year, we obviously had a bit more so, from a team perspective, we're feeling much more prepared."

There will be fingers crossed in the McLaren garage as Alonso and Stoffel Vandoorne put the new Renault-powered car through its paces, the once formidable outfit having split with Honda after three miserable years. Albert Park will see a number of debuts, with Formula Two's Monegasque champion Charles Leclerc and Russian Sergey Sirotkin having their first races for Sauber and Williams respectively.

The much-maligned halo, a cockpit head protection system, will also make its race debut along with 'Grid Kids', aspiring young drivers who have replaced the female models who paraded on track in seasons past.
---
Motor racing: Hamilton fastest but Red Bull, Ferrari in hunt
Melbourne (Reuters): Formula One champion Lewis Hamilton topped the timesheets for Mercedes in both practice sessions at the Australian Grand Prix on Friday but Red Bull's Max Verstappen showed enough pace to give the Silver Arrows pause for thought.

After lapping Albert Park in one minute 24.026 seconds to dominate the first practice of the new season, Hamilton improved the mark slightly to 1:23.931 in the second session on a balmy autumn day.

Red Bull's Dutch wunderkind Verstappen was snapping at his heels, however, finishing only 0.127 seconds adrift of the four-times champion after the second session.

Raising hopes of a contest for Mercedes, who have swept the drivers' and constructors' titles for the past four years, there was less than three-tenths of a second separating the champions from the Red Bull and Ferrari cars.

Verstappen sandwiched himself between the Mercedes drivers, with Hamilton's team mate Valtteri Bottas third quickest despite taking a couple of slides off the track.

"That's what I call a positive start to the season," Verstappen tweeted. "The car handled well and I'm happy with today."

Fourth in FP2, Kimi Raikkonen showed Ferrari may also be in the hunt for Sunday's race but he will have to face the stewards after allegedly impeding fellow Finn Bottas, who nearly rammed into his rear and ended up in the gravel.

It was a tougher day for Raikkonen's four-times champion team mate Sebastian Vettel, who was more than a half-second off the pace in FP2 in fifth position.

But he downplayed the subdued dry run.

"We still have quite a lot of performance in hand. I am not too worried because I know if I get everything right we should be in better shape," the German told reporters.

Tipped to be the big improvers, Haas delivered in spades, with Romain Grosjean sixth quickest in FP2 and his team mate Kevin Magnussen ninth.

There was some encouragement for McLaren, whose day began bleakly as engineers fussed over an exhaust system problem that left twice champion Fernando Alonso and Stoffel Vandoorne confined to the garage for most of the session.

But Alonso finally emerged to post the eighth fastest lap and held the position through FP2.

Canadian Lance Stroll's day ended in frustration, with his Williams forced to a halt at the end of FP2 with overheating issues. He was 14th for the session, ahead of his debutant team mate Sergey Sirotkin (18th).

While Mercedes showed they hold a slight edge in pace, rain forecast on Saturday could yet add an element of uncertainty during qualifying.
---
Ricciardo handed three-place penalty for home race
Melbourne (Reuters): Daniel Ricciardo's Australian Grand Prix jinx struck again on Friday with the Red Bull driver handed a three-place grid penalty for his home race for going too fast during red flag conditions.

Stewards, who also gave the Australian two penalty points, said the breach occurred during the day's second practice session at Albert Park.

Ricciardo had admitted an error in reading his dashboard display, they added.

"The Stewards thoroughly reviewed the breach and found that the driver slowed significantly, such that no danger was created, and that the driver proceeded with due care," stewards said in a statement.

"The Stewards therefore are imposing a lesser penalty than usual, and impose a three grid place penalty and two penalty points."

No Australian has ever won his home Grand Prix but Ricciardo was seen as a contender this season, with Red Bull looking fast in testing.

In 2014, he finished second in his debut race for Red Bull but was disqualified soon after for a mechanical infringement that was no fault of his own.

He just missed out on a maiden podium for a home driver in 2016 when he finished fourth, while last year he crashed in qualifying, started from the pitlane and then retired midway through the race.

"It has to be more fun (this year)," he had said on Thursday.