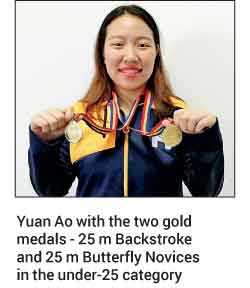 The Hambantota International Port's (HIP) swimming team participated in the 13th Annual Mercantile Swimming Championships 2019, for the President's Challenge Trophy in October this year. The swim team who took part in the national event for the first time won in two categories.

The nine-member swim team representing HIP participated in different categories and Yuan Ao, working in the Finance Department at the port, secured two gold medals in the 25M Backstroke and 25M Butterfly Novices in the under 25 category.

This was the first time Yuan competed in a national tournament and had high praise for the event. "The atmosphere was definitely awesome and the Mercantile Swimming Competition is a really exciting event, I look forward to participating next year too," she says.

This year the HIP swim team had begun training for the competition just a month prior to the competition, but now plans to be better equipped for the next year by having regular training. "All our teammates really enjoyed our weekly training sessions and it really helped to increase our team spirit. I also think our participation this year has encouraged more of our staff members to attend training and our Human Resources Department has plans to make swimming a regular event for our company by opening it to all staff. So next year we would be more prepared to win the championship with a large number of competent swimmers," adds Yuan.

The Mercantile Swimming competition held for the 13th consecutive year, saw 555 participants representing 36 companies this year. The competition was organised by Thurstan College Aquatic Club in Association with the Sri Lanka Aquatic Sports Union.