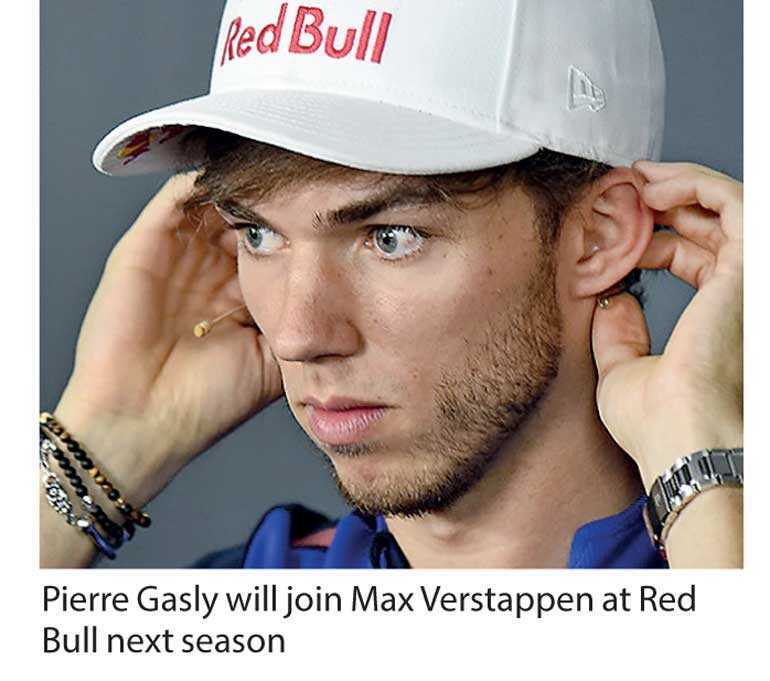 AFP: French driver Pierre Gasly will replace the departing Daniel Ricciardo at Red Bull next season, the Formula One team announced on Monday.

The 22-year-old Gasly, who currently drives for Red Bull's junior team Toro Rosso, will line up alongside Max Verstappen after Australian Ricciardo leaves for Renault at the end of the 2018 campaign.

"It has been my goal to race for this team since I joined the Red Bull Junior Driver Programme in 2013, and this incredible opportunity is another step forward in my ambition to win Grands Prix and compete for world championships," said Gasly.

The Frenchman only made his Formula One debut at the Malaysian Grand Prix last October, but has scored 26 points for Toro Rosso this year, with a best finish of fourth in Bahrain.

He is 13th in the drivers' standings and has scored 24 more points than the second Toro Rosso driver Brendon Hartley. "Since Pierre first stepped into a Formula One seat with Scuderia Toro Rosso less than a year ago he has proved the undoubted talent that Red Bull has nurtured since his early career," team principal Christian Horner said on the Red Bull website, adding that Gasly was "one of the most exciting young drivers in motorsport".

Red Bull have struggled for consistency this year, but have managed to win three races, with two of those coming from Ricciardo.

Gasly will join one of his good friends in the paddock, 20-year-old Dutchman Max Verstappen, to form a particularly young and eye-catching driver tandem.

Horner also pointed out that Gasly brings valuable technical experience, because Red Bull are switching engines next season from Renault to Honda, who already supply Toro Rosso.

"Red Bull has always looked to fight for championships or victories and that's what I want," added Gasly.

"I'm a really competitive guy and when I do something it's always to fight for the best and top positions."

Gasly comes from a motorsports family and his four brothers all drive. He started karting at the age of six before advancing to single-seater cars, winning a first title in Eurocop Formula Renault 2.0 in 2013 before being recruited by Red Bull and winning a GP2 title in 2016.

He is, one of his former mechanics said, "funny, endearing and perfectionist". He is also known for his rare ability to analyse data from his car.

With nine races left in a season that does not end until November 25 in Abu Dhabi, the announcement means that several of the top teams have already made significant moves in the annual game of musical drivers' seats.

Mercedes announced before the German Grand Prix on July 22 that they had locked their two drivers, Lewis Hamilton and Valtteri Bottas, to contract extensions.

Then Renault recruited Ricciardo to beef up their challenge next season and that seems to have had a double knock-on effect, freeing a seat at Red Bull for Gasly and creating a crowd of three at the French team.

One of Renault's young drivers, Spaniard Carlos Sainz, like Ricciardo and Gasly a product of Red Bull's driver development programme, announced last Thursday that he was moving to McLaren to replace the retiring Fernando Alonso.