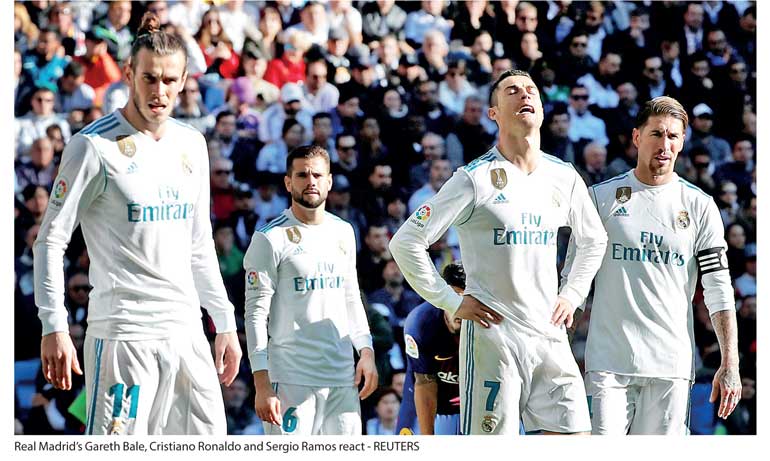 MADRID (Reuters): Real Madrid's 1-0 defeat by Villarreal in La Liga on Saturday was greeted by boos and jeers from the Santiago Bernabeu and plunged the Spanish champions further into crisis.

They are 19 points behind unbeaten leaders Barcelona at the halfway point of the season, fourth in the table and without a hope of defending their league title.

Here, Reuters Sport highlights five reasons why last season's double winners have collapsed.
Ronaldo below par
Cristiano Ronaldo won his fifth Ballon d'Or in December 2017 to move level with Lionel Messi, but the pair's performances this season could not be further removed.

Barcelona's talisman has lost some of his pace but is as deadly as ever, leading the scoring charts in Spain with 17 league strikes. Ronaldo, meanwhile, has scored just four goals in the division.

The team is built around Ronaldo and, despite a bright spell in the run-up to the Clasico which Madrid lost 3-0, at 32-years-old his best days may well be behind him.
Leading names misfiring
Ronaldo is not the only big name not living up to his billing.

Marcelo has been one of the best left backs in the world over the previous few years, but he has been playing poorly and several goals against Madrid have come from his flank.

Karim Benzema, like Ronaldo, has found it hard to score this season, while Toni Kroos has not been as accurate as usual with his passes in the middle of the pitch.

On paper Madrid's squad is still strong but when the key performers are misfiring, the team as a whole suffers.
Lack of investment
Real Madrid were widely praised for their close season transfer business, bringing in young, promising players Theo Hernandez and Dani Ceballos.

However, while they may become crucial in the future, the first team itself was not improved.

Zinedine Zidane's best side is the same eleven players he had at his disposal last season, whereas Madrid's rivals have refreshed their sides.

Barcelona added Ousmane Dembele and now Philippe Coutinho, while Atletico Madrid brought in Diego Costa and Vitolo.
Zidane effect over
Coach Zidane has a commanding presence and, given his stellar career as a player, was instantly afforded a lot of respect.

That helped him lead Real Madrid to consecutive Champions League titles and their first league trophy since 2012.

However during that period he was praised for his man management, rather than his technical and tactical skills. Madrid's football depended a lot on the quality of players they had, rather than a philosophy of play. Now the players are not performing, that is a problem.
Decreased motivation
Real Madrid's squad have won it all, becoming the first side to retain the Champions League, in its current format, when they triumphed over Juventus in Cardiff last June. Then in December they beat Gremio to be crowned World Champions, too.

Given the squad was not refreshed sufficiently, the team do not have enough new players who are looking to succeed for the first time. With players like Alvaro Morata and James Rodriguez leaving in the close season, there is not enough pressure on the regular starters either, who are not afraid of losing their places in the team.