Reuters: Switzerland won their third Hopman Cup on Saturday as Roger Federer and Belinda Bencic beat Germany's Alexander Zverev and Angelique Kerber 4-3(3) 4-2 in the deciding mixed doubles to secure a 2-1 victory in the final at the Perth Arena.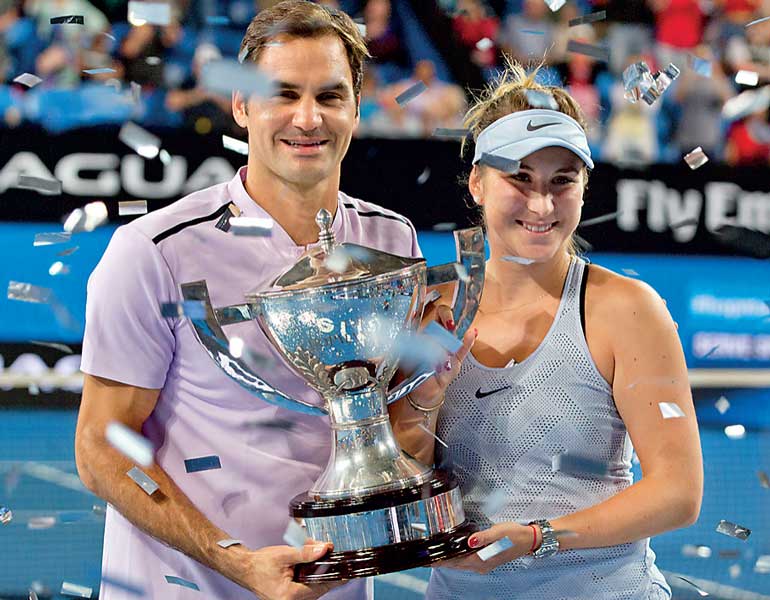 Roger Federer (L) and Belinda Bencic of Switzerland hoist the Hopman Cup after defeating Alexander Zverev and Angelique Kerber of Germany in the mixed doubles final on day eight of the Hopman Cup tennis tournament in Perth on January 6, 2018 - AFP
It was Federer's second Hopman Cup triumph after victory in 2001 alongside then world number one Martina Hingis.

"She (Hingis) had a great career and to have that in a small country like Switzerland is very rare," world number two Federer said after his country's latest triumph.

"It made me also believe with hard work and dedication you get really far because I didn't believe that much at that point when I was younger, I thought it was more all talent."

Federer had earlier roared back from a set down to beat Zverev 6-7(4) 6-0 6-2 and give the Swiss a 1-0 lead.

Unbeaten in three singles matches in the tournament before the final as he prepares to defend his Australian Open title later this month, the 19-time grand slam champion failed to wrap up the first set despite hitting 20 winners.

However, it was only a matter of time before the 36-year-old Federer found his groove as he raced to win the second set 6-0 before sealing victory in the decider with a drop shot.

"I was trying to play as aggressively as possible. I'm maybe better when we're closer together," said Federer. "The court plays fast, so it helps if you approach (the net) and do it the right way. It was working out well, so I thought I'd keep going until I had to fix it. That never happened, so I was able to cruise all the way through."

The tie went to a mixed doubles decider after Kerber continued her strong start to the campaign under new coach Wim Fissette by beating Bencic 6-4 6-1 to level the score at 1-1.

World number four Zverev finished with one singles win from four matches in a patchy preparation ahead of the year's first grand slam at Melbourne Park starting on 15 January.