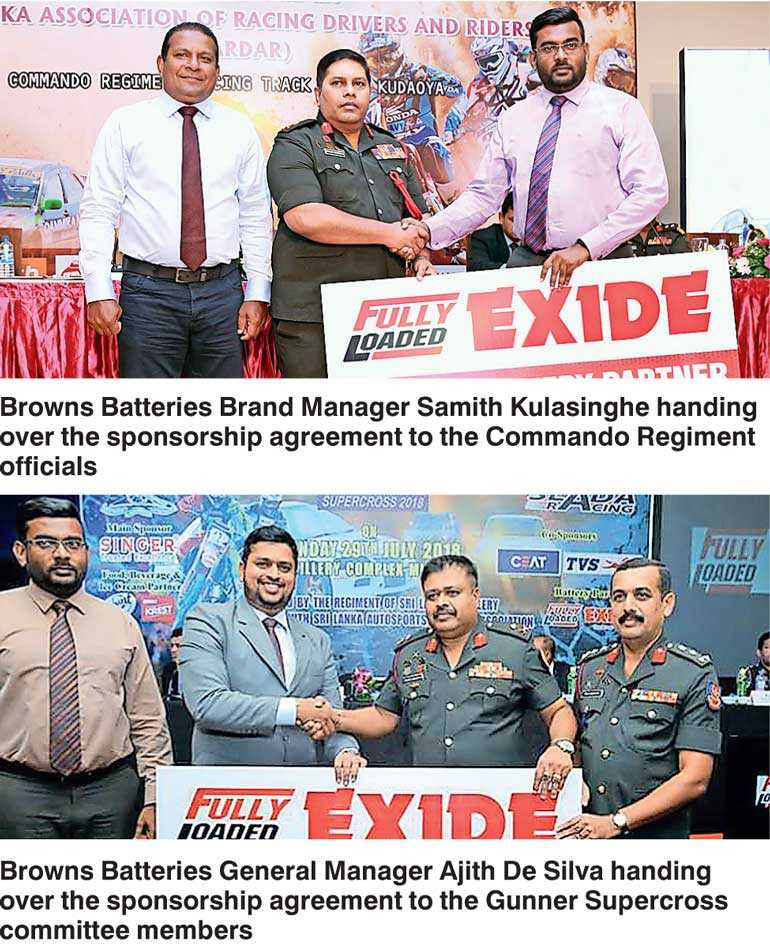 Browns Exide, the market leader in the automotive battery industry in Sri Lanka, will be the official battery partner for the 13th edition of Gunner Supercross and the 3rd edition of Commando Challenge Supercross, which will be held on 29 July at the Artillery Complex in Minneriya and on 5 August at Uva Kudaoya Commando Regiment Training School, respectively.

A prestigious name synonymous with power, Browns Exide has been a brand that has extended their support to advance motor sporting in the country, by coming forward as the official battery partner to the leading motorsports events, including the Gunner Supercross and the Commando Challenge Supercross.

The Gunner Supercross was initiated in 2004 under the stewardship of the then-Colonel Commandant of the Regiment of Artillery. The event has since been successfully organised by the Artillery Regiment of Sri Lanka in collaboration with the Sri Lanka Auto-sports Drivers Association (SLADA).

Browns Batteries General Manager Ajith De Silva handed over the sponsorship agreement to the Gunner Supercross committee members in the presence of officials from the Regiment of Artillery and the Sri Lanka Auto-sports Drivers Association (SLADA).

The relatively new Commando Challenge Supercross is a motorsports extravaganza organised by the Commando Regiment of Sri Lanka. The third edition of the event will consist of ten motorbike encounters and twelve racing car engagements at the Commando Challenge track in Uva Kudaoya - Sri Lanka's first racing track which meets the latest internationally recognised standards and rules.

Browns Batteries Brand Manager Samith Kulasinghe handed over the sponsorship agreement to the Commando Regiment officials at the event held recently at the Regiment premises in Ganemulla, announcing the third edition of the Commando Challenge Supercross. "Browns Exide is a battery brand related to power and speed. Racing vehicles also need starter batteries to run. Exide and racing, therefore, have an organic relationship," noted Browns Batteries General Manager Ajith De Silva while expressing his ideas on Browns Exide's continuous partnership with the prestigious motorsports events in the island. "The funds raised by these events are used to help the families of the fallen heroes, and to improve the infrastructure of handicapped soldiers. As a corporate with still roots, Browns is always happy to contribute to worthy causes of this nature," De Silva added further.

Sri Lanka's most trusted automotive and industrial lead-acid battery, Exide caters to a wider market across the island. With trusted performance and proven after-sales service, Exide accounts for nearly 55% of the Sri Lankan automotive and industrial battery market. Exide was introduced to Sri Lanka in 1926 by Browns Group that continues to offer the finest quality automotive products and services to Sri Lankan motorists.