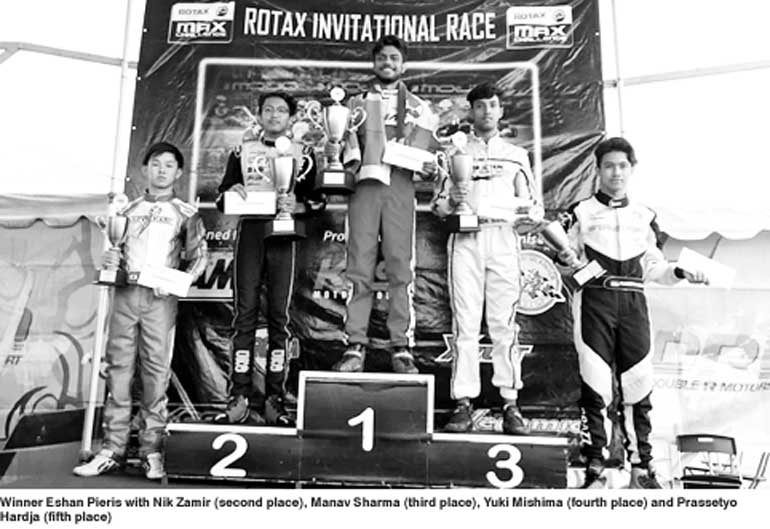 Sri Lanka's Eshan Pieris once again lived up to his reputation as being one of Asia's best karters by winning the Rotax Invitational Race 2018 held in Malaysia last week.

This came hot on the heels of his brilliant performance at the X30 Asia Cup 2018 held on the preceding weekend in Bandaragama, Sri Lanka where he secured second place in the senior category in a hard-fought race with his nemesis Prassetyo Hardja of Indonesia.

Driving in the DD2 class, qualification saw Eshan, the defending champion in this race, in third place, which meant he started both heats from this position. Then a brilliant show of skill and determination saw him win both heats. The second heat saw a nail-biting finish when a last lap manoeuvre on pole-sitter Nazim Azman ensured Eshan secured the first starting position for the prefinal which he went on to dominate from start to finish.

Although it was a rainy day at the Sepang track, the sun came back with a vengeance and dried up the track fast just before the finals. Once again, the clear leader from the start, Eshan made it impossible for the rest to catch up and the closest was Nik Zamir, but the gap was just too wide for him to take the lead.

Nik Zamir finished second and Manav Sharma finished third. Yuki Mishima, a new Japanese driver, finished fourth in his DD2 debut. Coming in fifth was 2017 overall DD2 champion Prassetyo Hardja who faced technical issues the whole weekend and was forced to pull out in the pre-final. However, in the final he made a brilliant start and climbed up to sixth and worked his way up to fifth place. Presently, an undergraduate at Monash University in Malaysia, Eshan represents the RL Karting Team from Malaysia.

This is the first Rotax race of the season before Round 1 of the Asia Max Challenge 2018 starts in March.