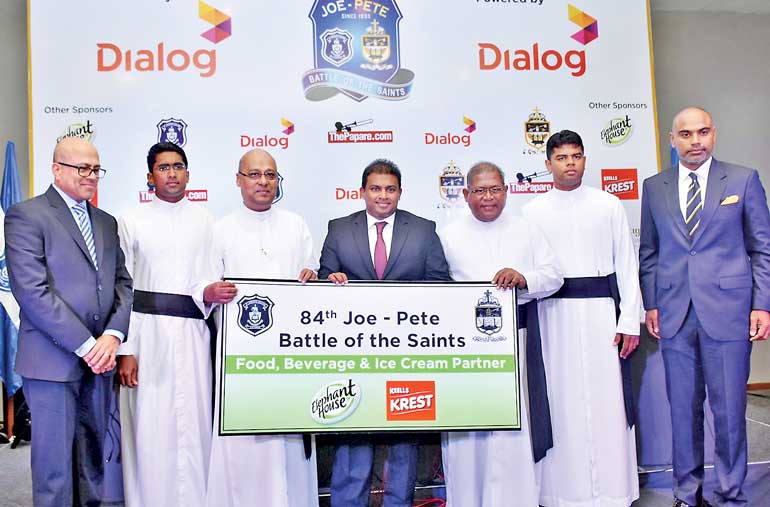 Sponsorship being handed over by Keells Food Products and Distribution Head of Sales and John Keells Holdings Assistant Vice President Shanil Perera (centre). Also pictured (from left): St. Joseph's College Rector Rev. Fr Travis Gabriel and St. Peter's College Rector Rev. Fr Trevor Martin, in addition to members of the school's sports staff and big match organising committee
Elephant House and Keells Krest will once again support the 'Battle of the Saints' Big Match between St Joseph's College and St Peter's College as its Food, Beverage and Ice Cream Partner for 2018.

Now in its 84th consecutive year, this thrilling school cricketing encounter is one of the longest-running big matches in Sri Lanka, with this year's edition being played on 2 and 3 March at P. Sara Oval Grounds.

As long-time supporters of this tradition, Ceylon Cold Stores PLC (Elephant House) and Keells Foods Products PLC (Keells Krest) continue to be indispensible to the enjoyment of these big matches, by providing a beloved range of processed meats, beverages and ice cream to attendees at these exciting 'Battle of the Saints' big matches for several years now.

In terms of supporting schools' big matches, Elephant House and Keells Krest are undoubtedly the largest supporters of these tournaments. The spirit of competition and sportsmanship witnessed at the 'Battle of the Saints' is truly an exemplary example for others to follow. As a partner of this encounter for many years, Elephant House and Keells Krest have put all their efforts into guaranteeing that students, old boys, parents and guests, and even the competing cricketers, are refreshed, ensuring that the match is truly a success.