Inter-School Cricket Under-19 2019/2020
By Shamseer Jaleel

Dharmaraja College is led by promising left hand batsman Dulaj Bandara during their 2019/2020 cricket season.

Isuru Dayananda, Yasitha Samararatne, Dhanuka Marasinghe and Upendra Warna-kulasuriya are the star players in the Rajans outfit this season. They are coached by former Anandian Thusira de Silva. Saliya will operate as the MIC of the Cricket unit.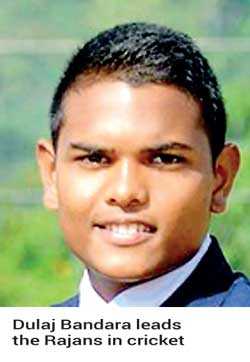 Match schedule for 2019/2020 match dates subject to change due to rain

They will play St. Peter's College (3 and 4 October – home). Matara Rahula (7 and 8 October – home), Dharmasoka (4 and 5 November – home), S. Thomas' Mount Lavinia (15 and 16 November – home), St. Anne's (22 and 23 December – home), D.S. Senanayake (30 and 31 December – home) as their third term plus tournament encounters.

In the first term games they will play Moratuwa Vidyalaya (4 and 5 January – home), St. Anthony's College (17 and 18 January – away), Mahinda College (23 and 24 – away), Dharmapala (31 January and 1 February – away), Nalanda (8 and 9 February – away), Wesley (11 and 12 February – away), Ananda (18 and 19 February – away), Maliyadeva (27 and 28 February – home) and the Big Match and Limited Overs encounter against Kingswood (14 and 15 March, and March 22 respectively).
Squad

Dulaj Bandara (Captain), Dhanuka Ratnayake, Upendra Warnakulasuriya, Isuru Dayananda, Yasith Samararatne, Thushan Herath, Virajith Ehelepola, Dhamika Marasinghe, Chetiya Ekanayake, Dhanuka Marasinghe, Dinuka Pathiraja, Chetiya Weerakoon, Muditha Eriyagama, Sahan Siriwardena, Janith Gunatunga, Malinda Perera and Kesara Nooragoda. Head coach Thusira de Silva.