By Shamseer Jaleel

Defending league champions Kandy Sports Club claimed the 2017/2018 Dialog Rugby League in grand style when they not only outclassed their opponents Navy 41-17 but also went on to remain unbeaten in the league.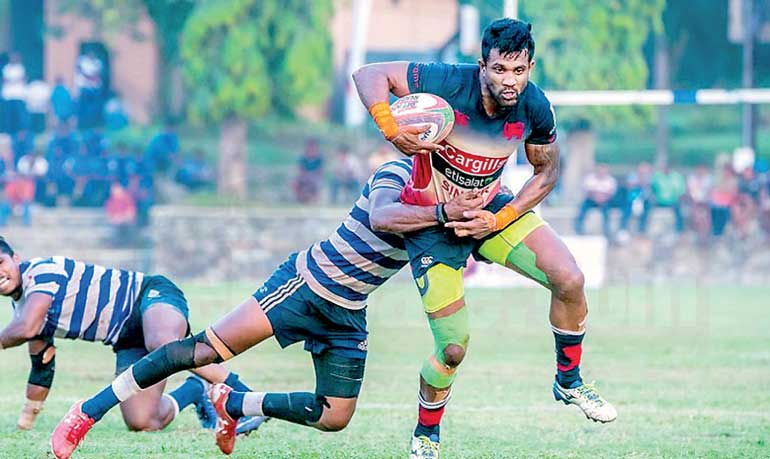 Kandy skipper Gayan Weeraratne is tackled by a Navy player
They only have games against Army (away) and Havelocks (home) left to play.

Kandy scored 41 points after dismantling the home team, with 34 points in the initial half. Although Navy hit back strongly with two converted tries it was too late for a recovery as the lead created by the upcountry outfit was too much for them to overcome.

Kandy's longtime lynchpin Fazil Marija was once again at his peak. He has only five more games left in his Kandy career. A loyal player who never crossed over to other clubs due to outside pressure or money, Marija has been with Kandy for more than a decade, playing for the champion club while in school. He has also proudly represented the country, making his national debut against a visiting Hong Kong outfit. His ability to read the game is brilliant and has contributed significantly to so many of Kandy's smooth moves on offence.

While on the attack in this match, Marija split some very good defence from the sailors. Kandy skipper Gayan Weeraratne, who has been an unsung hero this season, initiated many try-scoring moves for Kandy with his hard work from the front.

Thilina Weerasinghe scored first for the home team through a penalty kick but Kandy hit back when Jason Dissanayake brushed aside a few defenders before touching down.

The next try saw strong Kandy Number 8 Buwaneka Udangamuwa crashing over the try line. His try was converted by Nigel Ratwatte.

Next Kandy was awarded a penalty which resulted in the quick-thinking Danushka Ranjan taking a quick tap to set Lavanga Perera up for the upcountry club's third try. The floodgates then burst open as Richard Dharmapala was next to touch down for Kandy. Ratwatte had time for one more penalty to take Kandy to 34-3 at halftime.

Srinath Sooriyabandara was yellow-carded early in the second half. This allowed Dulajana Wijesinghe to score Navy's first try. The accurate Thilina Weerasinghe added the extra two points. Mohamed Absal scored the sailors second try and Weerasinghe added the extras to halve the deficit and bring the scores to 34-17.

During injury time Supun Dilshan was carded for a high tackle on Richard Dharmapala which prevented a certain try. Referee Charlie Brown from Singapore awarded a yellow card and a penalty try to Kandy.


First win for the Cops

Police, after twice having close calls this season - against Havies and CH & FC - broke free with a good 18-12 win over Air Force. The Cops, who led 15-5 at halftime, scored their points through Sunga Kasun and national player Wajeed Fahmy. Sandesh Jayawickrema, who had a grand game, put over the conversion and the penalties while the Air Force outfit scored their tries through Rumesh Ramdas and Nuwan Perera with Charith Seneviratne putting over the two extra points.


CR beat Havies to secure Mathysz Trophy

CR & FC came back strongly in the latter half not only to beat their traditional rivals Havelocks 30-22 but also regain the Mathysz Trophy after three years.

Havies put over four penalties through the safe Reza Mubarak while the red shirts hit back through a penalty from Tharinda Ratwatte

Burly forward Kokila then scored a try. Mubarak's fifth penalty and Tharinda's second brought the scores to 15-11 in favour of the park club. A Nalin Kumara try and Ratwatte conversion took the scores to 18-15 in favour of the Longdon Place club. A Chamod Fernando try gave CR a 25-15 lead. Havelocks, who had a major point drought in the latter half, scored their only try through Prop Dushmantha Priyadarshana with Reza Mubarak continuing his accuracy to reduce the deficit to three points between the two teams. Reza Raffaideen, who some consider to be the next Fazil Marija, was quick to the loose ball and dived over for his first try of the game.
CH edge out Army
CH & FC fought back magnificently to seal a nail-biting 30 points (2 goals, 2 tries, 2 penalties) to 28 points (1 goal, 3 tries, 2 penalties) win over Army yesterday at Havelock Park.

At halftime Army led 17-15. The referee for the game was Charlie Brown from Singapore.

The Dialog Rugby League will come to an end in two weeks with two more rounds of matches remaining. Already defending champions Kandy have reclaimed the trophy. All eight teams will battle it out for the Clifford Cup knockout rugby competition during the last two weeks of February.