By Shamseer Jaleel

Kandy once again sent out a warning to other leading clubs that they are the kings of local rugby, as they continued their invincibility at Nittawela with a dominant 50-15 win over CR, despite many expecting the encounter to be closely-contested.



At halftime Kandy led 21-3.Kandy went into this game without Wilwara and Udangamuwa but showed why they were the best side in the league. Fazil Marija was exceptional, using dummies and extraordinary moves to floor the Longden Place club. Although Roshan Weeraratne was expected to start since he has recovered fully from injury, he sat out, with Sooriyabandara operating in his place. Tries from Tharindu Chanaka, Ranjan and Dharmapala took Kandy to 21 points after a close affair in the first 15 minutes of play. A Reza Rafaideen penalty notched up the only points for CR during the initial half.

After the turnaround Hooker Uchith Jayasuriya booked his name on the try-scoring list with Nigel Ratwatte claiming the addition points with a successful conversion. The next two tries were scored by Jason Dissanayake and Sooriyabandara but Ratwatte failed with the conversions.

CR scored their first try through former Trinity winger Shashan Mohamed's quick thinking, which saw Rafaideen going over the try line. Dharmapala's second try took Kandy over the half-century mark but Chanaka Tharinda Ratwatte came late in the first half, Omalka Gunaratne, Rafaideen and Shashan Mohamed played their hearts out for CR. Charana booked his name with a second CR try. Although CR showed some fighting qualities in the first 15 minutes and the last 10 minutes of the match, the damage had already been done by Kandy, leaving the Longden Place outfit with too much to do. The referee for the game was Rohan Fernando.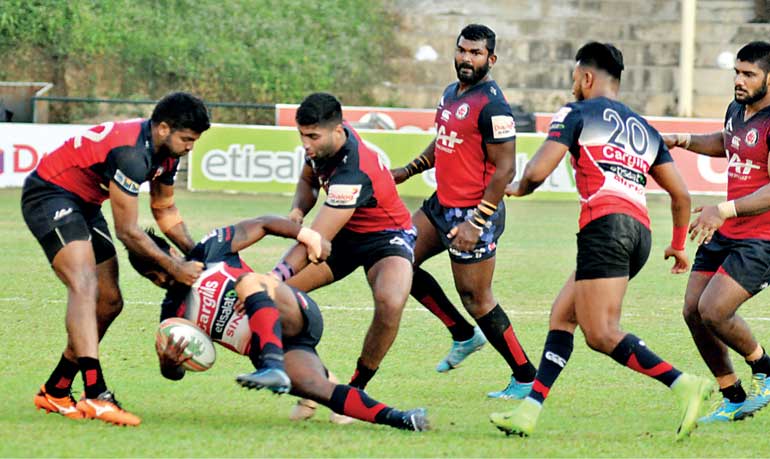 CH outclass Air Force

CH&FC 28 points

Air Force 12 points

Once again the difference between the two sides was the fine place-kicking by former St. Anthony's College player Samuel Maduwantha who secured 13 points for the CH outfit. Air Force opened the scoring with three penalties from Charith Seneviratne but CH replied through an Avantha Lee try and a Samuel Maduwantha penalty plus a kick at goal on the try conversion.

After the turnaround Kurukulasuriya and Lee scored tries for the winners with Charith adding his fourth penalty of the game in the latter half. The referee for the game was Weeranga.
Navy sink cops

Navy 45 points

Police 26 points

Police provided a surprise when they scored first through Janith Chandimal but Navy were quick to react through back-to-back tries through the burly Stephan Gregory and kicking sensation Thilina Weerasinghe. Both conversions were missed by Weerasinghe who is usually a reliable placekicker. Police's second try came through Chandimal and a Sandesh conversion gave Police a 12-10 lead. A Silva try gave the sailors a comfortable 17-12 lead.

After the turnaround a second try from Gregory and another one from Buddhima Piyaratne gave Navy a 31-12 lead after both tries were converted by Weerasinghe. With one man in the sin bin, Police used the momentary numbers advantage to score through Sanjula and reduce the lead to 31-19.

Weerasinghe's second try and a try from Maduranga saw Navy scoring 45 points. Chanaka, who never gave up, scored a Police try with Sandesh on target with his kick to reduce the gap to 45-26 but the cops ran out of time and they continue to chase an elusive win this season. The referee for the match was Priyantha Gunaratne
Havies hang on to second position

Havelocks SC - 27 points

Army - 12 points

Havelocks held on to second position with a late burst to overcome a spirited Army side 27-12. The first half was a close affair with the score reading 10-8 heading into halftime. The park club lost one of their best players in Sudharshana Muthuthanthri who is in New Zealand. This was a major blow to the ranks of their forwards. Fajudeen, Lasindu and Bandara accounted for the Havies tries. Reza Mubarak was in good form putting over three penalties and one drop goal. For the losers burly forward Ashoka Jayalal scored their only try with fullback Gayan Salinda converting it. Irshard Carder controlled things out in the middle.