By Shamseer Jaleel
Rashen Dilshan (Devananda Ambalangoda) and Senashi Herath (Visakha Vidyalaya) won the 10 km Open Water Swimming Championship 2019, which concluded at the Galle Face beach recently.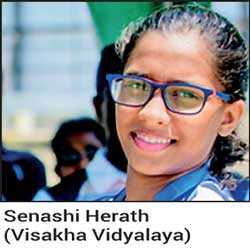 The Men's 10 km Open Water had 58 entries while only 22 swimmers managed to complete the full race. Rashen Dilshan came first with a time of 2:29.19 while D. M. Gunasena (Sri Lanka Army) came second with a time of 2:30.43

Out of the 15 swimmers who started the Women's event, only three managed to reach the finishing point. Senashi Herath timed 2:46:28 to finish first while Janethree Kaluwardhana came in second place with a time of 2:53.16.