Dialog 4G-the Sunday Times Most Popular Schoolboy/Schoolgirl Cricketer of the Year 2018
S. Thomas' College leg-spinner Dellon Peiris continued his dominance in the All-Island Schools category of the Dialog 4G-the Sunday Times Most Popular Schoolboy/Schoolgirl Cricketer of the Year 2018, which reached its ninth week.

Dellon added 1,377 combined votes to his tally – through online voting and coupons - as he took his total to 6,246 by the end of the week.

This is a clear lead of 3,449 over Sachin Silva of St. Peter's College, who did not fare impressively during the previous week in comparison to the progress of Dellon.

However, Sachin added 609 combined votes, mainly through online votes, to remain in second position for yet another week.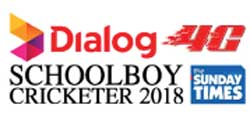 Ananda College skipper Asel Sigera gradually took hold of third position from Kavin Peiris by just adding 85 online votes during the week. His tally is now 1,287, while Kavin drops down to fourth position with a tally of 1,229. The difference of 58 votes between the two could lead to a battle for third position. Dharamaraja College's Dulaj Bandara remains in fifth position ahead of Kalana Perera of S. Thomas' College. Mahesh Theekshana debuts at seventh position with 155 votes solely received through online voting and with the inclusion of Methushan Thilina of D.S. Senanayake College, the number of contenders in the All-Island Schools category reached 19.

The stranglehold of Ananda Sasthralaya cricketer Sonara Karunathunga in the Emerging Schools category is in jeopardy with the rise of Denuwan Perera of Carey College, who raced from fourth to second position. Sonara added 505 votes to his tally, which is now 1,491 votes, but the rapid progress of Denuwan and the deficit of 182 votes could give him cause for concern in the weeks to come. Denuwan becomes the most voted for schoolboy online for the previous week and that could offer an early indication of his intentions.

As a result, Sonara's teammate Thimira Malshan had to move down to third, despite adding 373 combined votes. Kenula Gunarathne of St. Aloysius Ratnapura too had to move down a place to fourth position, but his progress too, of 403 combined votes, was remarkable.

Harshitha Samarawickrama of Anula Vidyalaya remains in top position in the Girls' Category while maintaining her lead with a healthy count of 1,485 votes. Her addition for the concluded week was 666 combined votes. She may find a close rival in Pabasara Ranabahu of Rathnavali Girls' School, Gampaha, who gained 775 combined votes to take her tally to 778 and secure second position within the second week of her debut. But the deficit of 707 could still put Harshitha in a comfortable position. Kaveesha Dilhani of Devapathiraja MV, Rathgama and Ruwini Nandasena of St. Joseph's Girls' School are the two other contenders on the list.

Online registration extended to 31 December

Coupons will be published in the Sunday Times and will be available throughout the week in the two English dailies, the Daily Mirror and Daily FT, and the two Sinhala dailies, Daily Lankadeepa and Ada, and Sinhala weekend newspaper Deshaya. Coupons will be available for 26 weeks with the deadline set for 5 April 2018. Readers can vote for their favourite schoolboy or schoolgirl cricketer and take them to the winning post during this period.

In addition, votes for the Most Popular Cricketer can be cast through Dialog Axiata's online voting system (www.dialog.lk/cricket/register).

The online registration process ended on 30 November, but due to popular demand, registrations will be extended until 31 December. Players who wish to enter the fray will have to confirm their participation by registering online at www.dialog.lk/cricket/register. Even schoolboy cricketers whose names are entered into the competition by readers must register before that deadline.

The names of players who registered online will be officially scrutinised for their eligibility and entered into the online voting mechanism, while the customary voting through coupons will still be on. The online portal is open for voting while online registration will be accepted up to 31 December.

The names of registered players will be released every Friday after the cut-off date of Wednesday for weekly scrutiny each week until the deadline. Online voting will be open until 5 April 2018.

Both coupon votes and online votes will be counted on a weekly basis and the official results will be published every week beginning next Sunday in the five newspapers and their respective websites. The deadline for coupons will be noon every Thursday while the weekly cut-off for online votes will be noon every Wednesday. Online votes received after the weekly cut-off time will be counted for the next week, while for coupons, only those numbered for the particular week will be taken into account. This week's digital voting count was monitored and approved by auditors PricewaterhouseCoopers.


All-Island Schools
Dellon Peiris S. Thomas' College 6,246
Sachin Silva St. Peter's College 2,797
Asel Sigera Ananda College 1,287
Kavin Peiris Lumbini College 1,229
Dulaj Bandara Dharmaraja College 685
Kalana Perera S. Thomas' College 407
Mahesh Theekshana St. Benedict's College 155
Ravindu Fernando Maris Stella College 143
Yasitha Samararathne Dharmaraja College 58
Nimnaka Jayathilake St. Anthony's College 36
Mahendra Absolom St. Joseph's College 37
Kalana Wijesiri Ananda College 33
Methushan Thilina D. S. Senanayake College 27
Sachin Ravindu St. Joseph's College 23
Pasindu Madhawa Maris Stella College 6
Navod Paranavithana Mahinda College 2
Kamindu Mendis Richmond College 2
Hasitha Boyagoda Trinity College 2
Kalhara Senarathne St. Anthony's Katugastota 1 Emerging Schools
Sonara Karunathunga Ananda Sasthralaya 1,491
Denuwan Perera Carey College 1,309
Thimira Malshan Ananda Sasthralaya 1,078
Kenula Gunaratne St. Aloysius Ratnapura 867
Pulitha Yasas Sri Sumangala Panadura 209
Pathum Hasaranga Vidyaloka Galle 59
Saliya Jeewantha Eheliyagoda Central 59
Harsha Sooriyarachchi Kirindiwela Central 1 Girls' Schools
Harshitha Samarawickrama Anula Vidyalaya 1,485
Pabasara Ranabahu Rathnavali GS, Gampaha 778
Kaveesha Dilhari Devapathiraja, Rathgama 52
Ruwini Nandasena St. Joseph's Girls' School 2


Readers prizes go to: 1. Loraya Beeny Amanya, H.D.E. Enterprises, Good Shed Road, Ratnapura, 2. Thilanka Anjana, 117/1, Thalawathugoda Road, Pitakotte, 3. Jacqueline Amath, 40/41, Katuwawela Road, Maharagama, 4. G. L. Wijesinghe, 57B, Gohagoda Road, Katugastota.