As a cricketer Ashantha de Mel is known for bowling Sri Lanka's first ball in a Test match and was one of the pioneer fast bowlers of the eighties who spearheaded the bowling. Although he ended his international career in 1987 with a knee injury, he continued to serve Sri Lanka cricket when he was first appointed chairman of selectors in 2004. Despite knowing that he was treading on thin ice for when the national team fares badly it is the selectors who come in the line of fire from all quarters. De Mel returned to serve as chief selector for a further three times in 2006, 2012 and 2018.
In a no-holds-barred interview with the Daily FT, De Mel who is known for calling a spade a spade spoke quite frankly on why Sri Lanka fared disastrously in South Africa and against England at home where they lost back to back Test series by 2-0 margins, and to where the country's cricket is heading among other things.

Following are excerpts:
---
By Sa'adi Thawfeeq
---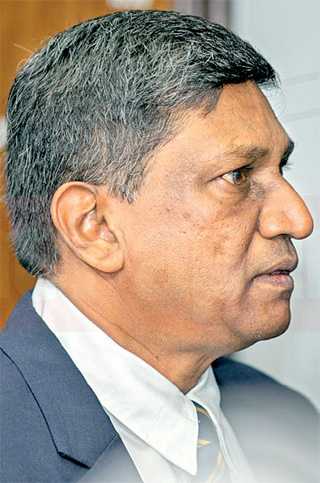 Former Sri Lanka fast bowler Ashantha de Mel has served as the head of the cricket selection panel four times
---
Q: What is the role of a selector?

Basically you have to look at the players and on their ability select them. You cannot base selection on stats. You pick them from what you see, some people have a knack for it, some people don't. Mahela (Jayawardene) has a good eye, he picks some good players. You also make sure that your selections are fair and there is a certain amount of consistency; you must field your second and third string of players.

You generally discuss with the Cricket Board on preparation of wickets and basically improving skills for the players with the white ball and red ball, improving defence, those kinds of things, chatting with the coaches going around and watching matches and identifying talent. It's a huge area that you have to cover. Then, club structures and all that to give your views and ideas how you can improve the competition in it. Those are the areas normally selectors do.
Q: Do you think you have fulfilled these tasks?

I have tried my best; you will have to look at the results. In 2006 when I took over we beat England 5-0 in the ODI series in England, and drew the Test series 1-all, we entered the 2007 World Cup finals, the 2009 World T20 final, and the 2010 World T20 semi-finals. In 2012 when I returned we got into the World T20 finals in Sri Lanka, beat Australia in Australia to get into the final of the Commonwealth Series knocking out India and came up in our rankings. In 2018 when I returned we beat South Africa in South Africa 2-0 when no other Asian country had done that.

The two series against South Africa and England at home we were totally underprepared. I am not going to take the total responsibility for going without any preparation to South Africa and for taking on England. I told them (Sri Lanka Cricket) not to go to South Africa that you cannot play there straight after the LPL without a single day's practice, no physical training, no conditioning, no nothing. Just go there, land and play.

At the time the country was rampant with COVID-19 with England having aborted their tour, and we could have easily postponed the tour. But we obliged because South Africa was going to lose all their TV rights if they don't play on the Boxing Day and the South African Board pressured us. Why did we have to go there and play on those fast tracks and come back and without practicing a single day on a spinning wicket play England? England was practicing weeks ahead of us making preparations to play on turning tracks. England from here they go to India whereas we are having a series from South Africa to Sri Lanka, you can see the total disparity.

You must plan your tours so that your team has the advantage not prepare it for the opposition. Who goes and plays at the Wanderers and Centurion and comes back and plays on total turners in Galle? How do you expect our bowlers to bowl 20 overs a day in 6,000 feet altitude without proper conditioning, they will break down. They say our batsmen can't play spin, but what is the practice they've had? Everything is relative. What's the point in asking why the team didn't perform well? Those are the things that we have to analyse. The head coach has written a letter to SLC.
Q: Knowing very well that you will be in the line of fire if the team performs badly, why did you keep on returning as chairman of selectors?

Every time the team is in a mess they (SLC) call me. When the country needs you and knowing you are laying your neck on the line, if you can do something for your country, you do it. It is not that I am doing it for a big salary or something like that. Even the manager's post I didn't ask for a salary. I was trying to do something for the country.

When they are in trouble they call me to fix the trouble because I am not scared of taking decisions. I take all the battering. In 2012 the same thing happened. My stepping down has nothing to do with the defeats to South Africa and to England. I've had enough and I am not enjoying it. It's become too burdensome and it is time for me to go for personal reasons. I don't want to be there.

People must know when the time is right to go. You don't have to wait until you are kicked out. Anyway this is the last time; from now on I am no longer going to get involved in any cricket administration going forward. I have done enough for the country, now I am going to rest. If somebody wants to talk to me privately I will talk but I won't come and volunteer to do any work. I've had enough.
Q: What has being a cricket selector taught you?

The basic thing is, when the game is going well, the selectors are good; it's not that we want it and the players are good. But when they perform badly, then the selectors are bad. The only thing in this thankless job is you are doing it for your country. It doesn't mean that you are trying to gain something from it, it is merely a service.

I try to put things right and players also know that I am fair with them. I don't go and pressurise them and use my influence. I try to keep them as cool as possible, give them more confidence as they require and a good environment to play.
Q: Where do you see Sri Lanka cricket go from here?

The downfall is not something new; it has been coming over a period. If you want to bury your head in the sand and wait you will hit rock bottom. You have to correct it. It's not a simple thing it's a complex issue, school to club, to Emerging to 'A' team and all that has to be corrected. You have to ensure that quality is maintained and not go for quantity. You can't have 20-24 clubs playing first-class cricket.

Sri Lanka is not beating teams not because they can't, but because of bad preparation. It's got nothing to do with me. The people who matter should take the responsibility. If you are underprepared and go and sit the exam without studying, you are definitely going to fail. It's not that the team is bad, you have to organise it well.