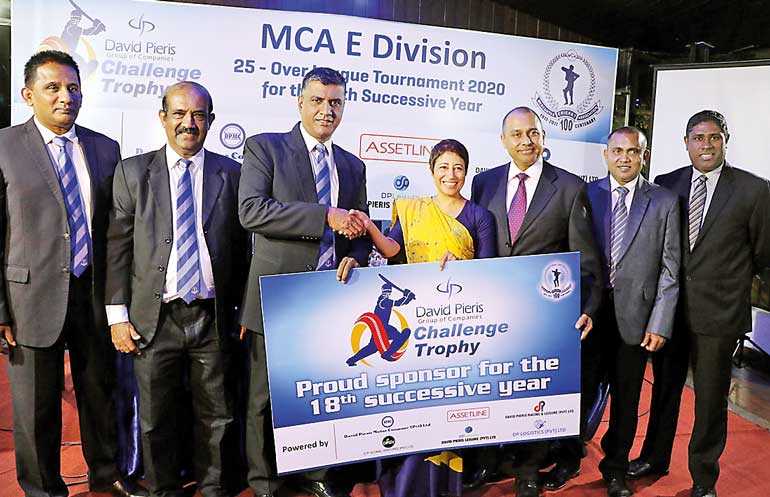 David Pieris Motor Company Executive Director Romany Parakrama handing over the sponsorship cheque to Mercantile Cricket Association President Rohana Dissanayake. Assetline Leasing Company CEO Naresh Tillekeratne, Assetline Leasing Company Chief Operating Officer Mahesh de Silva, DPMC Divisional Manager (Vehicle Sales) Lakmal de Silva, MCA Vice President Nalin Wickremesinghe and MCA General Secretary r Sirosha Gunathilake are also seen
---
The David Pieris Group of Companies (DPGC) has once again stepped forward to sponsor the Mercantile 'E' Division Cricket Tournament for the 18th consecutive year.
With a strong commitment towards uplifting the country's sports sector, DPGC has continuously supported the development of sports among schools as well as the mercantile sector. The Group also encourages its own employees to play sports and live healthier active lives. Currently David Pieris Group teams participate in mercantile cricket, athletics, volleyball, hockey, basketball, netball and badminton.
The handing over of the sponsorship cheque took place on 18 February at Mercantile Cricket Association (MCA) with the participation of David Pieris Motor Company Ltd. Executive Director Romany Parakrama, Assetline Leasing Company Ltd. CEO Naresh Tillekeratne, Assetline Leasing Company Ltd. Chief Operating Officer Mahesh de Silva, David Pieris Motor Company Divisional Manager Lakmal de Silva, MCA President Rohana Dissanayake, MCA officials, media and guests.
Speaking to the media Parakrama said, "The MCA and its league tournaments continue to create and deliver great value which is why we have partnered them for 18 years. It enables those who love the sport to continue to play the game after they leave school and enter the work force. One of the most important contributions of the MCA is the networking and bonds it creates on and off the field which foster business and career growth."
David Pieris Group is one of Sri Lanka's largest and financially stable conglomerates and comprises eighteen companies in diversified industries including automotive products and services, financial services, logistics, investment properties, racing, leisure and organic agri export.