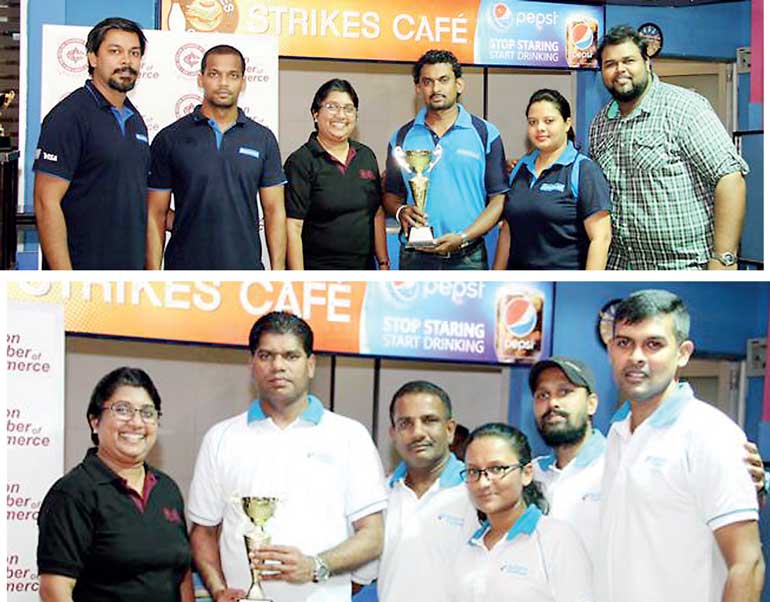 Commercial Bank of Ceylon PLC won the Chamber Bowling Championship 2017 organised by the Business Councils Division of the Ceylon Chamber of Commerce on 21 October at the Excel World Entertainment Park, Colombo 10. The bowling tournament was organised as another initiative of the chamber to strengthen unity and cooperation amongst the member companies of the Ceylon Chamber and its 20 business councils.

The Commercial Bank team gained a staggering 726 points to win the title, while Nations Trust Bank followed closely behind as runners up with 671 and Hatton National Bank scored 581 points at the competition.

Twenty-four strong teams from 20 leading companies participated at the tournament and the Ceylon Jewellery Manufacturers Ltd., Hayleys Advantis Ltd., Hatton National Bank, Lanka Orient Express Lines Ltd., Advantis Freight Ltd., Commercial Bank of Ceylon PLC, Expo Lanka Freight Ltd., and Nations Trust Bank competed in the final round of play as the top eight highest scoring teams.

The event was supported by Zam Gems Ltd., Nestle Lanka, Lidechsi Group of Companies, Hilton Colombo Residences, Prima Ceylon Ltd., MAS Holdings, Euro Asia Cargo Ltd., Alpha Tours, Saf's Classique Gems Ltd., Hemas Holdings, Lanka Exhibition and Conference Services (LECS), and Quantum Clothing.

"We have decided to make this tournament an annual competition in our event calendar, considering the strong interest shown by members of the Ceylon Chamber and business councils," said the Chamber Spokesman presenting awards and gift packs to winning teams.