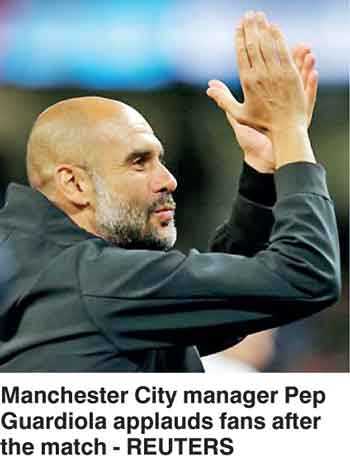 LONDON (Reuters): Only the most preposterous turnaround can spare Swansea City from relegation on the final Sunday of the Premier League season but if any team can help fashion this mission improbable, it is Pep Guardiola's dazzling Manchester City.

While Liverpool and Chelsea contend for the one remaining Champions League spot, Swansea fans are steeling themselves for the most deflating of afternoons at the other end of the table.

For only if the Welsh outfit can beat already-relegated Stoke City at the Liberty Stadium and champions City thrash Southampton at St Mary's to effect a 10-goal swing will the Saints tumble out of the top flight instead of the Swans. It remains highly unlikely but because rampant City are seeking to underline their record-shredding campaign with a landmark century of points, few Southampton or Swansea fans can quite convince themselves it is over yet.

"We have to be careful. If there is one team in this league who have the capability of scoring a lot of goals, it's Man City," warned Southampton manager Mark Hughes.

Hughes should know. Managing Stoke earlier this season, he saw City rain in seven goals – one of 14 times Guardiola's side have scored four or more in all competitions this term.

Getting the three points on Sunday to finish with exactly 100 clearly means a good deal to the Spaniard, who noted after City's 3-1 steamrollering of Brighton & Hove Albion on Wednesday that it would "finish this almost perfect season". Indeed, a win at Southampton would make City's league season, statistically at least, the finest-ever in the English top-flight.

Swansea's manager Carlos Carvalhal can only hopes the champions have one more exceptional 90 minutes in them. "Well, at this moment we're not relegated," he shrugged.

"We can't depend on ourselves and we don't like that. We must win the game and hope for a miracle to happen."

The "miracle" would not be Man City running riot, it would be Swansea, without a league goal in over six and a quarter hours, actually rousing themselves to hammer Stoke.

In the battle to seal the final top-four spot alongside City, Manchester United and Tottenham Hotspur, it's advantage Liverpool, who need just a point at home to Brighton to foil Chelsea.