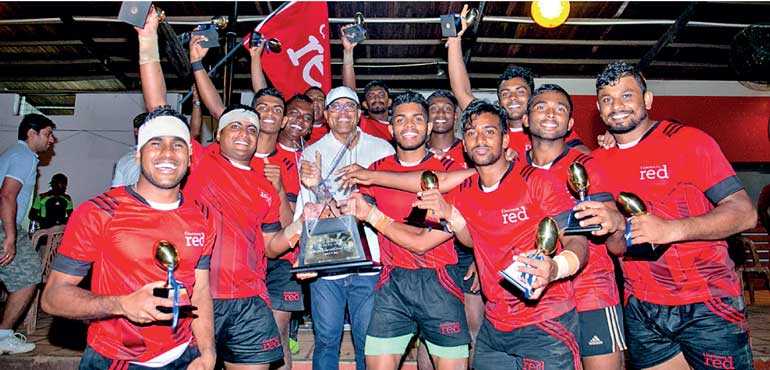 The JKH Inter-Company Rugby 7s winners Cinnamon Red with General Manager Terrence Fernando \
Cinnamon Red claimschampionship title
New kid on the block, lean luxury city hotel Cinnamon Red won the coveted championship title at this year's John Keells (JKH) Inter-Company Rugby 7s held at the CR&FC grounds on 13 October. Cinnamon Red won the title beating Cinnamon Citadel in the Cup Championship (26 – 05).

Cinnamon's five-star property Cinnamon Grand claimed the Plate Championship, beating JMSL (24 – 14). Cinnamon Grand's tag rugby team also won the category title for the second consecutive year, beating DHL (25 – 05) in the finals.

Cinnamon Red's championship team comprised Radeesha Seneviratne, Nuwan Perera, Sithum Peiris, Ishara Madushan, Thilina Weerasinghe, Ashan Bandara, Harsha Maduranga, Chathura Seneviratne, Keshan Chandra, Janindu Dilshan, Susitha Padmakumara and Asela Illangange. In addition, Janidu Dilshan was named player of the tournament, while Ishara Madushan was named player of the final.

The Cinnamon Grand team consisted of B. G. P. P. Jayasinghe, K. G. D. M. Promodha, K. G. N. Kumara, Gihan Madusanka, J. K. H. Perera, U. W. C. Chanaka, W. M. S. A. Weerasekara, D. R. Perera, M. M. G. Iddamalgoda, H. M. L. L. Herath, W. M. R. Kumar and W. S. P. Silva.

The Cinnamon Grand tag rugby team comprised M. M. M. De Silva, D. L. Perera, W. P. L. P. Perera, P. P. Manoj, E. A. M. P. Pradeep, Manoj Sarathchandra, S. G. Harsha, Rashmika Perera, Dilani Thabrew, Amanda Rodrigo and Dinesh Supramaniam.

The Cinnamon Lakeside team comprised Kanchana Sandaruwan, Adil Kitchilan, Dhananjaya Kulatunga, Samila Perera, Kasun Fonseka, Shanon Fonseka, Pansilu Jayasinghe, Lasitha Sandaruwan, Banuka Kumarasinghe, Ranga Nadushan and Manoj Kapukotuwa.

The tournament saw 11 teams battle it out for the title, while 15 teams participated in the tag rugby category.

Cinnamon City Hotels Sector Head and General Manager Rohan Karr, along with Cinnamon Lakeside General Manager Dermot Gale and Cinnamon Red' General Manager Terrence Fernando congratulated the teams for their efforts and expressed their appreciation for the commitment shown by all.

Cinnamon Grand claimed the Plate at the JKH Inter-Company Rugby 7s

Cinnamon Grand's tag rugby team claimed the tag rugby title for the second consecutive year