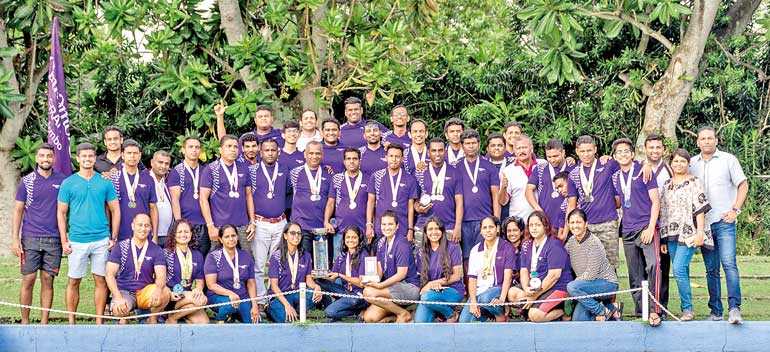 Cinnamon Grand's champion swimming team
---
Defending champions Cinnamon Grand Colombo emerged champions yet again at the 10th Annual JKH Inter-Company Swimming Tournament, held on 24 August at the SSC pool in Colombo.

The fiercely competitive tournament featuring 20 teams saw team Cinnamon Grand emerge with a total of 585 points to claim the championship title.

The Cinnamon Grand Men's team and the Women's team were also named champions in their respective categories.

In addition, individual category champions included Cinnamon Grand's Aldrin Shu of the Kitchen department in the Men's Championship category (under 25 years), while champion swimmers in the Men's Novices category included Pruthvi Perera of the Housekeeping department (under 25 years); Dilshan Perera of L&D (30-34 years); Rasika Ranga Peiris of Angsana (35-39 years); and M.W.D.P. Kularathne of the Banquet Operations department (40+ years).

The champion swimmers in the Women's Novices category included Shanaz Rockwood of F&B (30-34 years) and Dini Isaacs of the Banquet Sales department (40+ years).

The event was attended by more than 300 participants, and a day of fun, companionship and entertainment was enjoyed by all.