By Madushka Balasuriya

Sri Lanka captain Dinesh Chandimal and coach Chandika Hathurusingha have been suspended for a further four ODIs, along with both the Tests in the ongoing Test series against South Africa, after the ICC found them to have behaved "contrary to the spirit of the game." Team manager Asanka Gurusinha, who was charged with the same, has also received the same sanction.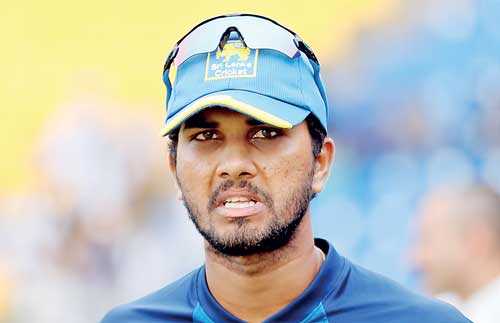 The ban is the strongest possible sanction the trio could have received, after they were charged with a level 3 offence following the second West Indies Test in St. Lucia last month, where the Sri Lankan team had refused to take the field on the second morning following a ball-tampering row.

At the hearing on 11 July, although the trio had pleaded guilty in the hope of a lighter sentence, they had contested that they were not completely at fault. ICC Judicial Commissioner Michael Beloff however was not to be moved and has handed down the harshest sentence available of eight suspension points.

"As eight suspension points equate to a ban from two Tests and four ODIs/T20Is or eight ODIs/T20Is, whatever comes first for the player or player support personnel, the Judicial Commissioner's ruling means the three will also remain suspended for the Dambulla ODIs (29 July and 1 August) as well as the Kandy ODIs (5 and 8 August)," explained an ICC media release.

With a further six demerit points each added to the disciplinary records of Chandimal, Hathurusingha and Gurusinha, this means Chandimal is now on 10 demerit points in total, having already received a further four demerit points in the same Test for ball-tampering.

This means that over the next two years, Chandimal cannot afford any further missteps, as two more demerit points to his name will result in either a three Test or six ODI ban - something that can easily be incurred over a code of conduct violation or slow over rate.
---
SLC new T20 cricket league put off
AFP: Sri Lanka's cricket authorities Sunday announced the indefinite postponement of the country's Twenty20 league scheduled for next month and said revised dates will be decided by a new board.

The Lankan Premier League (LPL) was due to start on 18 August, but an interim management body appointed last month decided to delay the tournament, Sri Lanka Cricket (SLC) said in a statement.

"Sri Lanka Cricket wishes to inform that the LPL (T20) has been postponed indefinitely, until an elected body is constituted at the SLC," the statement said.

In late May, Sri Lanka's Court of Appeal suspended elections for the crisis-ridden cricket board.

Sports Minister Faiszer Musthapha appointed a competent authority to run the board until elections are held within six months.

Board elections were scuttled following a petition by a former Secretary of SLC Nishantha Ranatunga who argued that outgoing President Thilanga Sumathipala was unsuitable for re-election.

Sumathipala was pitted against Ranatunga, a younger brother of Sri Lanka's 1996 World Cup-winning captain Arjuna Ranatunga, in the election.

The Ranatunga brothers accuse Sumathipala of violating International Cricket Council regulations by holding office despite alleged links to gambling.

Sumathipala acknowledges that his family is involved in gambling, but says he has nothing to do with the business and has not violated the ICC code of conduct.