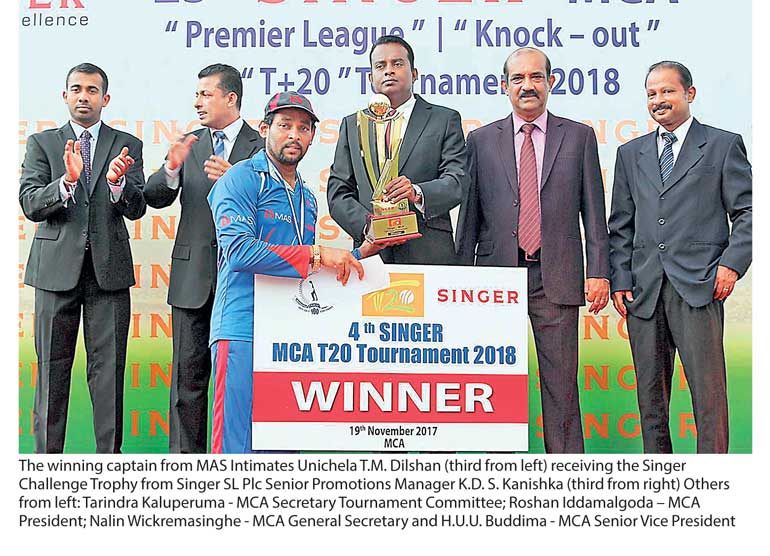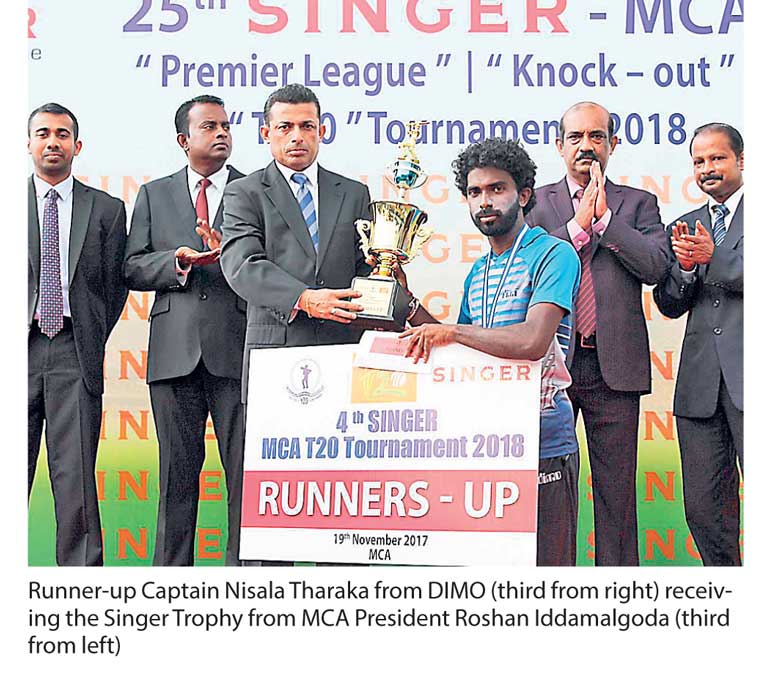 Captain T.M. Dilshan struck a belligerent 109 off 45 balls, inclusive of nine towering sixes and an equal number of fours, then opened the bowling and finished with 2 for 37 in 3.3 overs and judiciously handled his bowlers, as he steered MAS Intimates Unichela to a fantastic 57-run win over DIMO at the 25th Singer MCA Premier League 2018 T20 tournament final at the MCA grounds on Sunday.

The match was scheduled to commence at 10.00 a.m. but was dragged into the afternoon due to the waterlogged grounds. The match commenced at 12.45 p.m. with a full quota of overs.

Unichela, sent into bat, piled up 263 for 4 in 20 overs (RPO 13.2), riding on two blistering partnerships - 85 runs in 37 balls between openers T.M. Sampath (55) and Ramith Rambukwella (40), and 90 runs in 60 balls for the second wicket between Dilshan and Mahela Udawatte (23).

DIMO made a cracking start, reaching 100 in the sixth over via their batting machine Thikshila de Silva (63 in 19 balls, inclusive of 7 sixes and 5 fours).

This was Thikshila's fourth half-century in the tournament, having earlier scored 54 against Kanrich Finance, 66 against Hayleys and 71 against LB Finance (254 runs in four innings). He was adjudged the Most Up and Coming player.

After Thikshila's departure, caught by Maharoof in the deep off the bowling of Ishara Amarasinghe, DIMO slid to 153 for 7 in the 12th over and was finally bowled out with three balls to spare in the last over for 206.

Unichela's consistent bowler Anuk Fernando was the chief destroyer (4-21-4). He took his wickets tally to 9 for 106 runs in 16 overs.

Maharoof (2 for 36) also took his figures to 9 for 108 in 15.4 overs.

But the Best Bowler's Award went to DIMO's Ramesh Mendis (2 for 48), who finished the tournament with eight wickets off 12 overs, allowing 86 runs.

The Best Batsman award went to Unichela's Ramith Rambukwella (four innings, 252 runs, 97 not out against Sampath Bank and 105 against Teejay Lanka)

Match Referee Basil Perera had no hesitation naming Dilshan his Man of the Match. Dilshan earlier led Unichela to the league title. Teejay Lanka won the Knockout segment.

The awards were given away by Singer Sri Lanka Plc Senior Promotions Manager K.D.S. Kanishka and MCA President Roshan Iddamalgoda; MCA Senior Vice President H.U.U. Buddhima, MCA General Secretary Nalin Wickramasinghe and MCA Tournament Committee Secretary Tarindra Kaluperuma.
Chief scores
Unichela – 263 for 4 in 20 overs (T.M. Sampath 55, Ramith Rambukwella 40, T.M. Dilshan 109, Mahela Udawatte 23, Farveez Maharoof 22 not out, Ramesh Mendis 2 /48)

Dimo – 206 all out in 19.3 overs (Nisala Tharaka 27, Thikshila de Silva 63, Pramud Hettiwatte 25, K. Anjula 21, Anuk Fernando 4/21, Farveez Maharoof 2/36, T.M. Dilshan 2/37)