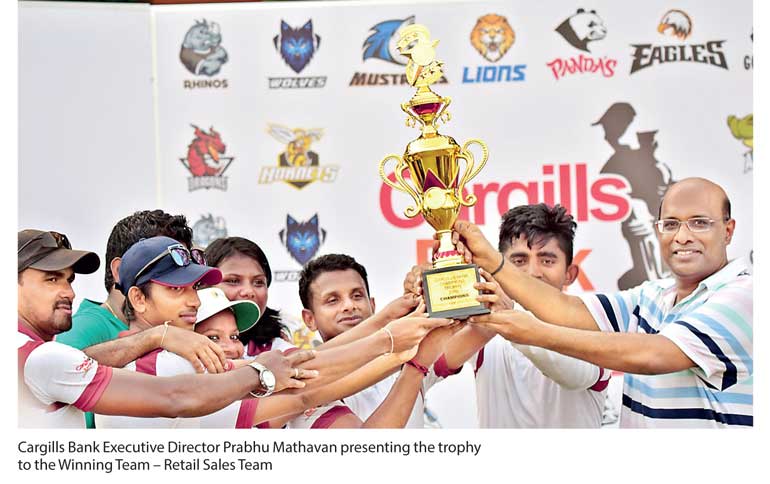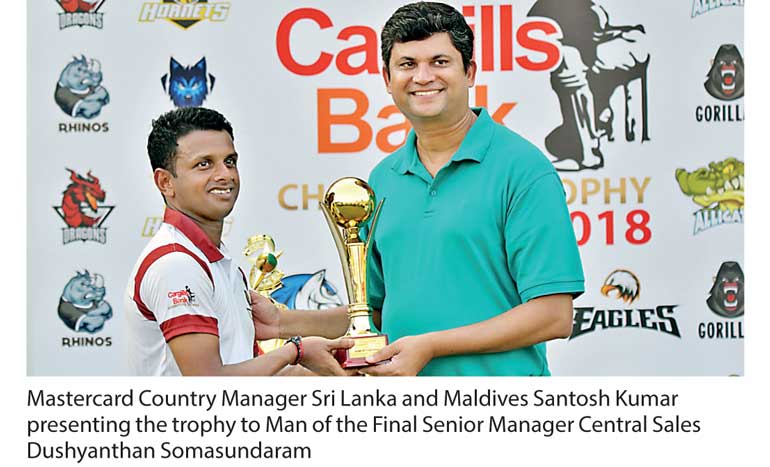 Cargills Bank successfully concluded yet another annual staff event. The Cargills Bank Champions Trophy inter-department six-a-side cricket tournament was held on 18 March at the Nondescripts Cricket Club Ground in Colombo. The event was held under the patronage of Managing Director and Chief Executive Officer Rajendra Theagarajah together with the corporate management at Cargills Bank.

The event was organised in a bid to enhance employee engagement and further encourage team spirit within the company. The event comprised of 16 teams made up of various branches and departments which also included a team comprising members of the bank's corporate management.

In its third year the inter-department cricket championship of Cargills Bank had all its employees brimming with excitement as they competed for the coveted trophy. The Retail Sales Team which emerged as champions battled it out with the 15 skilled and competitive groups of company cricketers. The spirited Cargills Bank Operations team secured the title of first runners up as they contested against the determined Card Centre team which emerged second runners up.

MD/CEO Theagarajah speaking at the event noted the importance of such events in building team spirit and leadership skills among employees. "As a bank that is committed to service, team work plays a major role in our performance. Therefore, we ensure that Cargills Bank employees are provided the environment to build not only team spirit but also to discover their inherent skill and talent. Events such as these render the perfect backdrop for us to provide the opportunity for our employees to excel," Theagrajah said.

Prior to the eventful matches of the day, employees of Cargills Bank lead a colourful and lively parade, starting from the bank's head office in Colpetty towards the NCC ground. The day was abuzz with Cargills Bank employees participating in various activities concurrent to the matches of the tournament.

Cargills is a brand that has been faithfully serving Sri Lankans for 174 years, built on a foundation of values and ethics. True to this heritage and the ethos of 'Banking on the Human Spirit', Cargills Bank is taking banking to the masses by being inclusive and accessible. The amazing Cargills Cash Savings Account is available at over 330 Cargills Food City outlets – allowing you to do grocery shopping and banking at the same place at your convenience. The Cargills Bank Debit Card with special offers is now a 'must have' for discerning customers.

Cargills Bank's Head Office is in Colpetty with branches at Maitland Crescent, Maharagama, Old Moor Street, Wattala, Kandy, Peradeniya, Nuwara Eliya, Ratnapura, Rajagiriya, Thanamalwila, Matara, Galle, Kurunegala, Kaduruwela, Vavuniya, Chunnakam, and Jaffna.