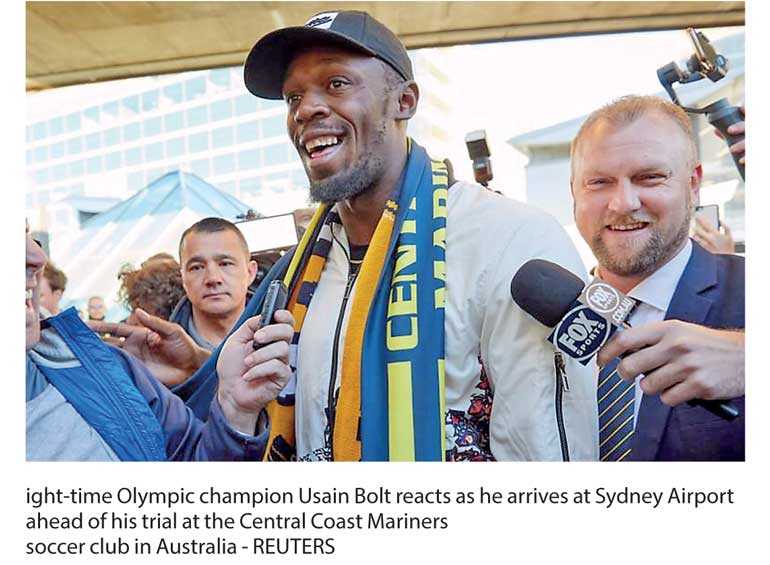 MELBOURNE (Reuters): Olympic sprint champion Usain Bolt eased into his first training session with Australia's Central Coast Mariners on Tuesday and said he was ready to prove the doubters wrong by winning a professional football contract.

Monitored by a big media pack, Bolt, who turned 32 on Tuesday, emerged at Central Coast stadium with his prospective team mates, flashing a big grin as he kicked the ball around during a light session in the sleepy seaside town of Gosford.

The eight-time Olympic gold medallist has been given an open-ended trial with the Mariners, who finished bottom of the 10-team A-league last season and operate in one of the country's smallest soccer markets.

There is plenty of doubt as to whether the fastest man on earth can reinvent himself as a top-flight footballer, and there was little to suggest from the closed session that Bolt would make the transition.

The Jamaican showed a heavy touch at times through about 45 minutes of drills, and was excluded from the main group as they played a half-pitch, eight-a-side match.

He rarely strayed from using his preferred left foot and spent the latter part of the session doing stretching exercises.

It will be one step at a time, said Bolt, sporting a black beanie and a goatee at his first media conference.

"For me it's just like track and field," he told reporters.

"The first day of training is always the roughest one. You can tell how much work you need to put in, what you need to do.

"It felt OK, I know it's going to take time and work and I'm ready to work." The Mariners' tie-up with Bolt has proved polarising in Australia, with critics dismissing it as a publicity stunt to boost the profile of a team that has failed to make the playoffs for the last four seasons.

Bolt, who retired from athletics at the world championships in London last year, has already trained with Germany's Borussia Dortmund, South Africa's Mamelodi Sundowns and Norway's Stromsgodset.

"I'm here. For me, people are always going to say what they want to say," he said. "Just like when I was in track and field, people said a lot of things about me but I always proved them wrong. So, It's just another moment for me to prove people wrong."

The Mariners have said Bolt will have as much time as he needs to prove himself.

Coach Mike Mulvey described Bolt's session as "just the first day" but said the sprinter could be ready for a proper practice match on 31 August against a representative side made up of top local amateurs.

Mulvey rejected the view that Bolt's trial was a gimmick and could prove a distraction to his squad.

"This guy is a winner. How many gold medals you won?" he asked Bolt sitting next to him.

"Eight gold medals in the Olympics. You don't do that just by having great ability, you do it by having great mental capacity.

"Now if he can pass on a little bit of that to my players, who were coming from the cellar to try to get to the top, this could be great for any of our young lads that we've signed."

Bolt said he had put his hand up for a wing or central forward role, and pledged to perform his signature 'lightning' gesture if he scored a goal in the A-league.

"I look forward to scoring as many goals, and to bringing home the trophy," he said.