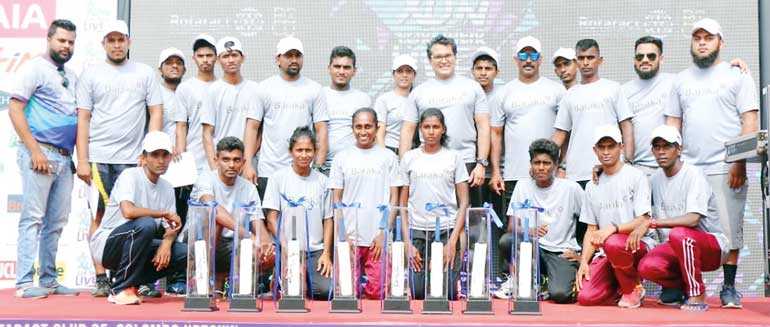 Runners representing Baraka placed first at the ninth consecutive 'Run for their Lives' marathon held on 9 December.

Run for their Lives is an annual 5km marathon organised by the Rotaract Club of Colombo Uptown (RCCU) in aid of the Apeksha Hospital (National Cancer Institute) in Maharagama.

It began as an awareness campaign for the prevalence of cancer in Sri Lanka and raises funds in order to support and enhance the facilities at Apeksha Hospital.

The large scale event attracts over 3,000 participants annually. Since its inception in 2010, Run for their Lives has strived to raise funds for the Maharagama National Cancer Hospital and spread awareness about cancer care. It positions itself as more than a charity race, representing a networking event for likeminded people to befriend each other while also helping those in need.

Baraka, living up to its quest for a healthier lifestyle, supported the event this year with the participation in the marathon of two teams of Baraka employees as well as a service stall. A total of 20 runners from Baraka took part in support of the cause. The Baraka men's team emerged winners as they took the first five places, while members from their women's team took the first, second and third places.

Baraka's 'JOINTEASE' stall was set up to aid the exhausted runners who were there to support this worthy cause. It was manned by experienced massage therapists to provide relief to runners post-marathon. It was well-received by many participants as they received relaxing massages with Baraka's very own JOINTEASE oil.

The marathon commenced at Race Course, passing through Good Market, Philip Gunawardena Mawatha, Senanayake Mawatha, Vidya Mawatha, Independence Square, and back to Race Course, concluding the event.

Baraka, a leading healthcare brand with state-of-the-art manufacturing facilities, was glad to be associated with the event in support of cancer care by participating in the Run for their Lives program for the first time.