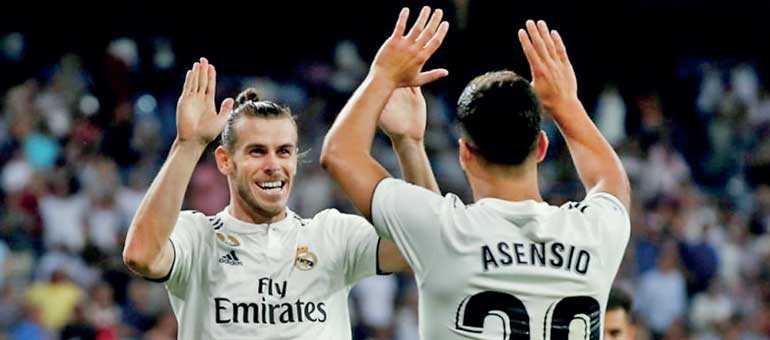 Real Madrid's Gareth Bale celebrates with Marco Asensio at Santiago Bernabeu, Madrid, Spain - August 19, 2018. REUTERS
MADRID (Reuters): Gareth Bale says Real Madrid work together more as a collective unit without former talisman Cristiano Ronaldo, after the Portuguese forward moved to Juventus in the close season.

The Welsh winger is thriving in the absence of Ronaldo, and Madrid have three wins from four La Liga matches.

Bale is Madrid's key weapon as the Champions League starts again this week, with Real facing Roma on Wednesday at the Santiago Bernabeu.

"It's maybe a bit more relaxed (without Ronaldo)," Bale told the Daily Mail. "I suppose there is more of a team, more working as one unit rather than one player." Madrid's all-time top goalscorer Ronaldo was crucial to the club's three consecutive Champions League wins under former coach Zinedine Zidane, although it was Bale who scored twice against Liverpool in the 3-1 triumph in May's Kiev final.

Bale came on from the bench and said he was annoyed about not starting the match, with that rage fuelling him to score a brilliant overhead kick. "(I was) angry. Quite angry, to be honest. Obviously, I felt I deserved to start the game," said Bale. "I'd been scoring goals. So yeah, I suppose it was hard to put the anger aside.
" With Ronaldo out of the way, he is essential to new manager Julen Lopetegui's Madrid, with the defending champions ready to start their bid for a fourth consecutive trophy on Wednesday in Group G.