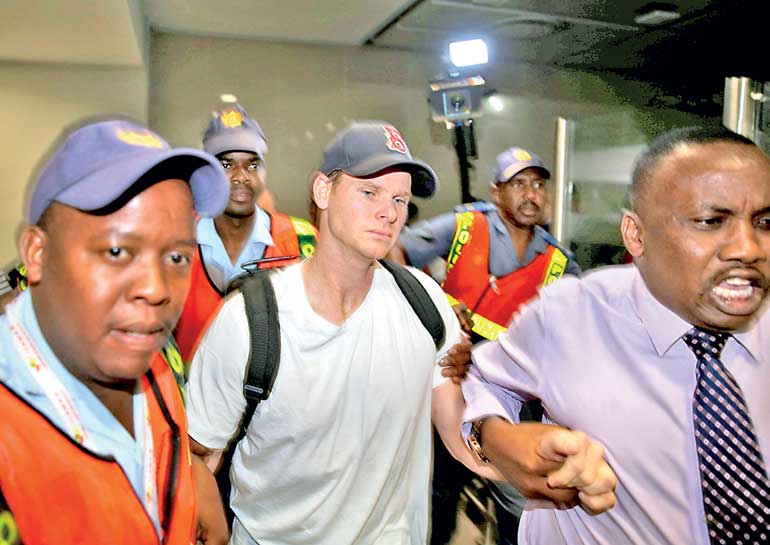 Axed Australian cricket captain Steve Smith is escorted by Police officers as he leaves the O.R. Tambo International Airport in Johannesburg, South Africa March 28, 2018. REUTERS


Johannesburg (Reuters): Sacked Australia captain Steve Smith and David Warner have both been banned for 12 months for their roles in the ball-tampering scandal in Cape Town, Cricket Australia (CA) announced yesterday (27 March), after uncovering a web of lies told by the players after they were caught.

Opening batsman Cameron Bancroft was banned for nine months following the scandal, which has outraged the fans, jolted the sponsors and prompted CA to send the players home from South Africa.

The trio will be allowed to compete in club cricket, but cannot take part in state or international games for the duration of their bans.

"David Warner will not be considered for team leadership positions in the future," CA said in the statement, having fingered him in developing the plot.

Smith and Bancroft will have to wait two years before they are considered for leadership roles, and even then it will "be conditional on acceptance by fans and the public", according to CA.

Each player must also complete 100 hours of community service before being considered for future selection, while it was confirmed that the cheat had been confined to the trio only, exonerating team mates and coach Darren Lehmann of any wrong-doing.

"This is a terrible situation. There are three guys going home that have been offered sanctions that are life-changing," Cricket Australia CEO James Sutherland told reporters yesterday. "There is a rebuild that needs to happen to reinstate the faith and the confidence, and I guess the pride that the Australian public had and should have in the Australian cricket team."

A key finding was that Bancroft had in fact used sandpaper to rough up the ball in the third test at Newlands, and not sticky tape as he stated, though Sutherland doubted this showed the cheat had been planned prior to the match or the days' play.

"I'm not sure it's normal procedure, but I do understand that sandpaper is often in the dressing room or in the players' kit bags," he said.

Warner was also found guilty of "provision of advice to a junior player (Bancroft) regarding how a ball could be artificially altered including demonstrating how it could be done."

Part of the findings against Smith and Bancroft were that they had mislead both the umpires on the field of play, and the public in a press conference as to the "the nature, extent and participants of the plan."

While Smith and Bancroft were both found guilty of "knowledge" of the plan to cheat, a CA statement credits Warner with the "development" of the plot, suggesting he was the instigator.

All three have the right to appeal their sentences.

Sutherland also said that there would be a review into the team culture and conduct of players.

"Questions (are) obviously being asked of lots of people as to why or how that might have happened," he said. "That's part of the purpose of later discussion and review. We'll clearly take on board whatever comes out of such investigations.

"We cannot have this happen again. It's just unquestionable and so obvious. If there are things that allow little things to turn into big things that allow this to happen, then you've got to go back to the core and find out what the little things are and address them. That is what we'll be doing."

Smith and Warner have also been stood down from their Indian Premier League (IPL) teams for 2018, representing a significant loss of income after the Rajasthan Royals and SunRisers Hyderabad had paid $1.84 million respectively for their services.

"We have decided to bar them from this season. The replacements will be made available to the two teams," IPL chairman Rajeev Shukla told reporters.

There is more financial fallout possible with multinational electronics company LG having already said they will not renew a sponsorship with Warner, while several other partners of Cricket Australia are reviewing their positions in light of the embarrassing scandal.

The trio will be replaced for the fourth and final test at The Wanderers in Johannesburg by opening batsmen Matthew Renshaw and Joe Burns, as well as all-rounder Glenn Maxwell.

South Africa lead what has been a tempestuous series 2-1 having not enjoyed a home test series success against the Australians since 1970.
---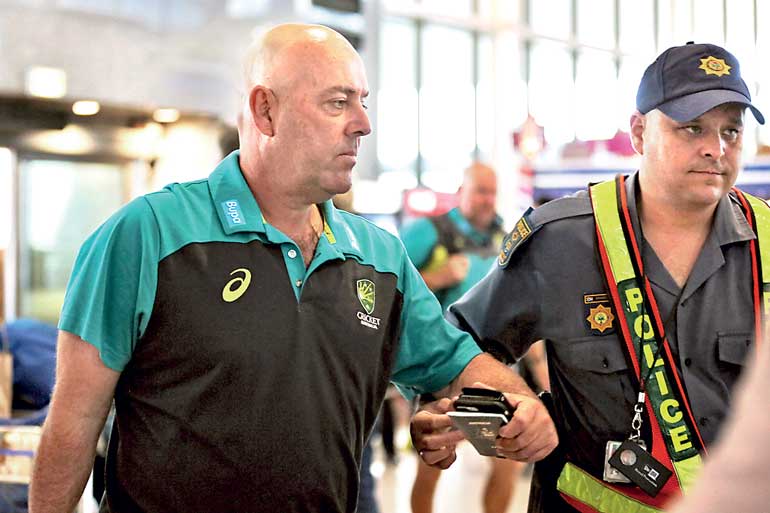 Australian cricket coach Darren Lehmann walks through a police cordon at Cape Town International Airport, South Africa. 27 March 2018. REUTERS
Australia coach Lehmann wants forgiveness for banned trio
Johannesburg (Reuters): Australia coach Darren Lehmann has apologised to the public and called for forgiveness for the "grave mistake" made by the trio of test players banned for their role in the ball-tampering scandal that has rocked the sport.

He promised a change in approach to the game from Australia, reeling not only from the scandal but accusations of boorish behaviour and playing contrary to the spirit of the game.

An emotional Lehmann, cleared of any wrongdoing by a Cricket Australia investigation, told reporters on Wednesday that the banned players, Steve Smith, David Warner and Cameron Bancroft, were "not bad people" and called for them to be given a second chance as he expressed concerns over their mental state.

The coach also said the team would need to improve their behaviour on and off the pitch in order to win back fan respect after Bancroft was caught tampering with the ball in the 322-run third test defeat by South Africa at Newlands.

"I would like to apologise to the Australian public and the cricket family. What happened on Saturday is not something that is acceptable from the Australian cricket team," Lehmann told a news conference restricted to Australian media. "The players involved have been handed down various serious sanctions and they know they must face the consequences. They have made a very grave mistake, but they are not bad people."

Smith and Warner, who have been sacked as captain and vice-captain respectively, were banned for 12 months, while opening batsman Bancroft was suspended for nine months.

"As a coach you feel for them as people," added Lehmann. "They are hurting and I feel for them and their families. There is a human side of this. These are young men and I hope people will give them a second chance. Their health and well-being is extremely important to us."

"I worry about the three guys immensely. We love all of our players and they are going through a really tough time. I'm not going to resign. We need to change how we play. Previously we butted heads but that's not the way to play going forward. I need to change," he said.

However, Lehmann avoided a question over whether he was responsible, as many pundits have suggested, for the 'in-your-face' style of the Australian team.

The coach reiterated that the first he knew of the ball-tampering incident was when he saw it on the big screen at Newlands, and said he was confident it was a one-off incident and had not been part of the team's playing culture in the past.

"The first I saw of it was on that screen, I got straight on the walky-talky and said something. There were a couple of expletives in there. Then I spoke to the players at tea time and said we would deal with it at the end of play, which happened through the process. I am confident it is an isolated issue and a grave mistake. It's never happened before in speaking to those guys."

Contrary to various media reports, Lehmann said the trio of players had the backing of the entire team, despite their actions. "When you lose three men in your team, who obviously made a mistake, that hurts all of us. Saying goodbye to them is difficult. The whole group is upset and we understand the enormity of it and the public perception. We have to try and win the fans back over and play the best cricket we can. If we take a leaf out of someone like New Zealand... we push the boundaries on the ground, so we need to make sure we are respecting the game and its traditions."

Lehmann also backed Smith to resume his international career when he had served his 12-month suspension. "He is going to come back a better person, there is no doubt about that. To see the hurt in him over the last three or four days, you just feel for him."

Lehmann was speaking to Australian media only, after local South African journalists and international news agencies were barred from the news conference.

Cricket Australia later supplied other media, including Reuters, with an audio file of the proceedings.

"It is not unusual for travelling teams to hold exclusives for their travelling media contingent. It's as simple as that," CA spokesman Tim Whittaker said of the exclusion.