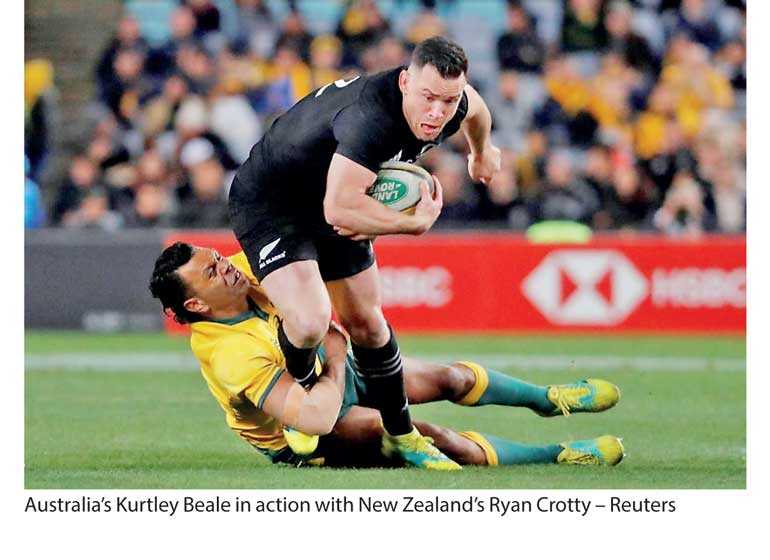 MELBOURNE (Reuters): Kurtley Beale has said he will work hard to improve his combinations with Australia's other playmakers ahead of their Rugby Championship clash against Argentina after struggling in his first match at flyhalf in four years.

After the Wallabies had suffered two heavy losses to the All Blacks to open the championship, Beale replaced Bernard Foley in the number 10 shirt against South Africa with Matt Toomua starting at inside centre in Saturday's 23-18 win at Lang Park.

The Wallabies' first victory of the tournament snapped a four-match losing streak and was a much needed confidence boost but Beale and Toomua's tandem performance was far from assured.

A nervous-looking Beale committed a slew of handling errors and appeared unsure of which lines to run at times.

The Wallabies' rejigged attack managed only two tries, one a direct result of a botched throw from a South Africa lineout.

"It was obviously challenging, but it's always an exciting challenge," Beale told reporters at the Gold Coast on Monday.

"The dewy conditions didn't really help ball-in-hand tactics but I think our forwards really did a good job of dominating up front. "Obviously, still a fair bit to work on. No doubt, those combinations with Matt Toomua and the rest of the playmakers, I'm sure there will be a lot of work around that going into this weekend's game."

Despite the shaky debut of the Beale-Toomua axis, Wallabies coach Michael Cheika suggested he would persist with it for Saturday's match against the Pumas, leaving Foley to cool his heels on the bench again.

Having played behind Foley for most of the past four years, Beale praised his New South Wales Waratahs team mate for taking his demotion on the chin and volunteering his advice.

"Bernard's been great around the group, he took it really well," he said. "He's certainly the same guy he was when he was wearing the number 10. That's the quality of the player and the person he is."

Beale said the Wallabies had struggled to cover for the loss of explosive fullback Israel Folau, who was a late withdrawal for the South Africa match due to a lingering ankle problem.

But Australia were only "scratching the surface" of their potential, having again failed to take their chances in attack.