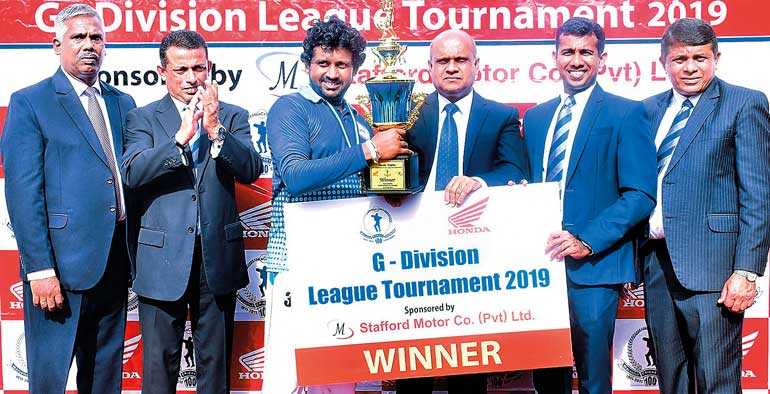 Asiri Hospitals Captain Madura Jayasena (centre left) receiving the 'Honda' Trophy from Stafford Motor Co. General Manager Damitha Jayasundera. Others from left: Stafford Motors Deputy General Manager Upul Perera, MCA President Roshan Iddamalgoda, Secretary TC Tarindra Kaluperuma and Chairman TC Sujeewa de Silva
---
Koshan Dhanushka Jayawickrama, 26, hogged the limelight by lifting three special awards, thus spearheading Asiri Hospitals to a resounding 55 runs win over Deutsche Bank AG in the 09th Stafford Motor Co. Ltd. – "Honda" Trophy, MCA "G" division 25 Over League Tournament 2019 Final, concluded at the MCA grounds on Sunday.

Jayawickrama was bestowed with the best batsman's award (07 innings, 428 runs), Man of the Series award (428 runs and 11 wickets for 129 runs) and Man of the Final award (68 runs in 46 balls inclusive of 06 sixes and 02 fours and a brilliant one handed catch in the deep)

Asiri Hospitals, who the toss and batted put up a challenging 190 for 8 in 25 overs riding on the opening stand of 141 runs in 88 balls between Koshan Jayawickrama and Dilee Sharika (68 runs in 50 balls, inclusive of 05 sixes and 03 fours).

Asiri Hospitals score would have been much higher if not for the intelligent spell of bowling by the 48-year-old, Niranjan Dabare, (05-32-04), who clinched the wickets of the rampaging Koshan Jayawickrama and Dilee Sharika, well as two other top order batsmen, Isuru Jayaratne (00) and Dileepa Nilupul (01); Left arm spinner Shivane Alirajah blended well with Dabare, as he finished with containing figures of 5-28-3.

The bankers chasing a total of 191 runs in 25 overs (RPO 7.64) got off to shock start losing opener, Pasan Jayasinghe (00) at 05 and their star batsman, Yohan Fernando (03) at 16.

They never attempted to open up the game as the spinners, Isuru Jayaratne (5-1-10-03) and Shehan Wijesinghe (5-1-27-02) took full control of the game; thus all out for 135 runs in 23.5 overs.

The Best Bowlers Award, based on performances up to the Quarter Finals went to Pradeep Sampath from A. Baur & Co. (07 matches, 158 balls, 81 runs, 17 wickets, Avg. 4.76, Econ. 3.08).

Awards were given away by the Chief Guest Damitha Jayasundera, GM and Guest of Honour, Upul Perera, Deputy GM (both from Stafford Motor Co. Ltd.), Roshan Iddamalgoda, President, Sujeewa de Silva, Chairman, TC and Tarindra Kaluperuma, Secretary TC (all from MCA).


Chief Scores:

Asiri Hospitals: 190/8 (25) (Dilee Sharika 68, Koshan Jayawickrama 68, Shehan Wijesinghe 26 not out, S. Alirajah 3/28, Niranjan Dabare 4/33)

Deutsche Bank – 135 (23.5) (R. Manzoor 15, D. Bastiampillai 20, T. de S Wijeratne 27, Praveen Fernando 39 not out, Sameepa Liyanage 2/30, Isuru Jayaratne 3/10, Rasika Peiris 2/27, Shehan Wijesinghe 2/27)