Exhibition Match between Batch '95 Exco and OBA Exco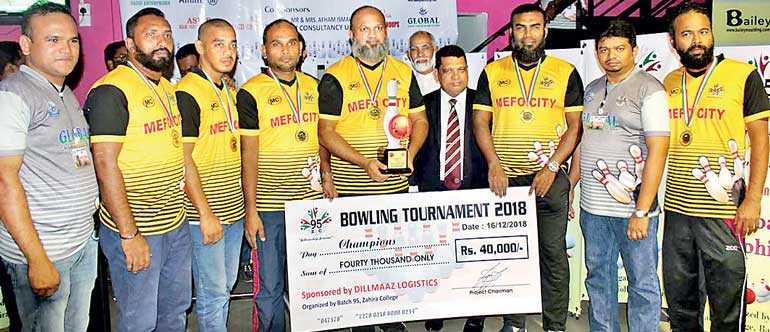 Captain of the champion team Atheek Haniffa received a Rs. 40,000 cash award and champion trophy. Zahira College Principal Trizviiy Marikkar and President Batch '95 Naveez Marzook, Project Chairman Fayaz Mooseen and team members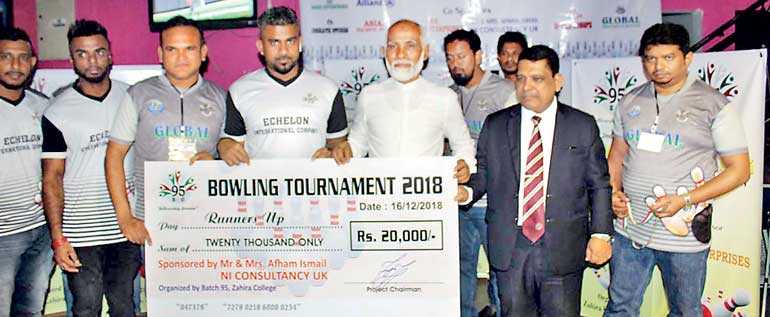 Runner-Up Zahira Veterans captain M. Imthinam receiving a Rs. 20,000 cash award and trophy from co-sponsor NI Consultancy

(UK) T.J.I. Ismail

Best Striker Shafeez Fawz from the Group of 2011 receiving a Rs. 10,000 cash award and trophy from co-sponsor Sadid Enterprises Proprietor Sajid Ameer

By Ruzaik Farook

Zahira College Colombo Batch '95 organized the second Annual Bowling Tournament 2018 among the old boys groups at the Excel World, Colombo recently.

There were 14 teams that participated namely Group of '93, OZTA, Group of 2009, Group of '90, Batch '95 (Maroon), Batch '95 (Avathar), Batch of 2002, The Riders, Group 2007, Batch '95 (Eagles), Batch '95 (Green), Zahira Veterans, Group of 2011and Scout Masters.

There also was an Exhibition Match between Batch '95 Exco and OBA Exco where OBA Exco emerged victorious.

Group of '93 became champions in the final and captain of the champion team Atheek Haniffa received a Rs. 40,000 cash award and champion trophy from the main sponsor Dilmaaz Logistics Director W.M.M. Mohamed. The Best Striker Shafeez Fawz from the Group of 2011 received a Rs. 10,000 cash award and trophy from co-sponsor Sadid Enterprises Proprietor Sajid Ameer. The Runner-Up Zahira Veterans captain M. Imthinam received a Rs. 20,000 Cash award and trophy from co-sponsor NI Consultancy (UK) T.J.I. Ismail and Exhibition Match Zahira OBA Exco M.R.A. Razak received a trophy from Batch '95 President Naveez Marzook.

President of the Batch '95 Naveez Marzook, Project Chairman Fayaz Mooseen, Secretary Aashick Shaffy, Patron M.A.F. Azhar and members of the Batch '95 and other groups were also present.