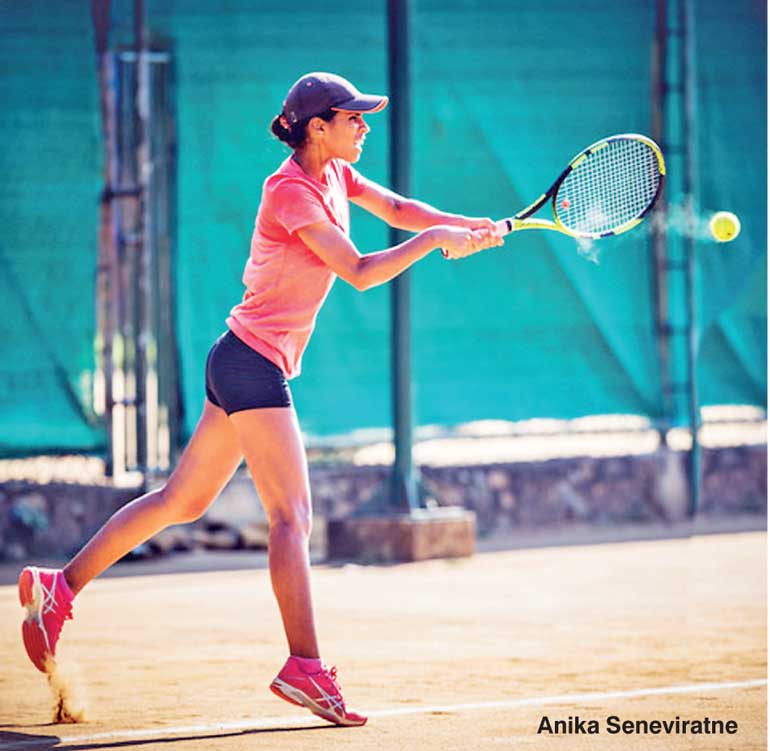 Anika Seneviratne the Number 1 ranked Women's player won the Sri Lanka Nationals (Clay Court) tournament defeating 3rd seed Savini Jayasuriya 6-3, 6-4 at the SLTA courts yesterday. Seneviratne took a 3-0 lead in the first set and then dropped 2 points before closing the set 6 -3. In the 2nd set Savini saved 9 match points before Anika closed the set and match.

The slippery surface and uneven bounce caused many unforced errors and shot making was tough but the players adapted well to the newly laid clay and put on a good display. In the semi finals Savin defeated 2nd seed Janali Manamperi 6-0, 4-1 (retired) and Anika beat unseeded Tuvini De Silva 6-1 6-3.

In the Men's singles finals 4 time National Champion Dinesh Kanthan Thangarajah beat Sanka Athukorala 7-6 (4) 6-3; after a close first set which Sanka led 4-2 Dinesh pulled away with some fine serving and solid ground strokes to roam to victory.

17 year old Malaysian teenager Liu Hui Retallick caused a sensation when he beat Sri Lanka's Davis cup player and bottom seed Dumindu Dilum in straight sets 6 - 2 , 3 - 2 (retired) in the 2nd round after defeating Chanith De Silva 6 -0, 6 -2 in the 1st round on Monday. He then beat Samitha Hettiarachchi in the quarter finals 7 - 6 (6) 4 - 6, 6 - 1 in a hard fought encounter which took nearly 3 hours on Tuesday. He then met former Davis Cup veteran Dineshkanthan who was playing competitive singles tennis after a lapse of 3 years, in the semi finals but the toll of the tough matches over the week and the heat wave we are experiencing seem to have a negative effect on the teenager and he went down 6 - 3 , 6 - 0.

Dinesh seems to be in excellent form and will play in the final against top seed Sanka Athukorala who was given a scare by Bangladeshi 6th seed Rustom Ali in the quarter finals and just managed to scrape thru 6 - 4, 4 -6 7-5 in over 3 hrs after taking 2 medical time outs in the 3rd set. Sanka beat another Bangladesh national Delwar Hossain 6-3, 6-1 in the semi final to book his place in the finals.

Doubles and juniors events will be next week.