By Madushka Balasuriya in Galle

It was seven years ago, on a rainy evening in Hambantota in November 2012, that Akila Dananjaya, just 19 at the time, was set to make is one-day international debut for Sri Lanka. In the end it was not to be, as rain intervened and a visiting New Zealand outfit on their final match on tour never had the opportunity to bat.

Akila had been given this opportunity having impressed a few months earlier at the ICC World T20, catching the eye of selectors with a string of promising performances, but such is the Sri Lanka Cricket selection circus, that between January 2013 and September 2017 Akila would not feature for Sri Lanka at all in any format.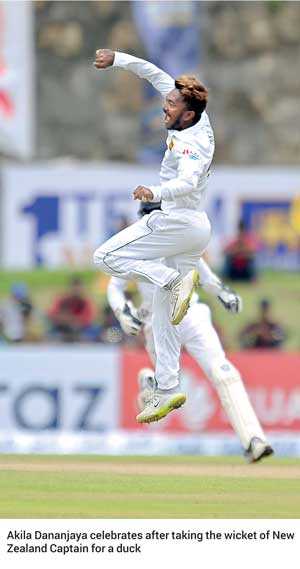 During this period it would have been easy to imagine a player slipping through the cracks, another talent lost to a broken system, but fortunately for Akila and Sri Lanka Cricket he found his way back into the side towards the end of 2017 - which is where he would remain, a mainstay in all three formats, until his most recent setback.

Just five months out of the World Cup, Akila who had been the sole bright spark in a dismal 2018 for Sri Lanka, was reported for a suspect action. The diligent worker that he is though, he immediately took to rectifying the issue, and with the assistance of spin-bowling coach Piyal Wijetunge, Dananjaya was re-tested and by the end of January this year he had been cleared to bowl once more in international cricket.

But things are never that simple, and on his return he was a shadow of the player that had stormed 2018 taking at least one wicket in 12 straight ODIs. Across four ODIs and three T20Is on his return in South Africa, the 25 year-old picked up just four wickets, while his economy rate too suffered. A disappointing outing at the pre-World Cup domestic super provincial tournament was the final nail in the coffin of Akila's world cup hopes.

At this point, it would have been easy for this bright talent to fall by the wayside, his effectiveness and confidence, waylaid and blunted. But once more Akila would fight, working to iron out the kinks in his new action, alongside his now mentor Wijetunge.

This dedication to the cause would reap swift dividends, as Akila, on his return to the national fold, would pick up three wickets over two ODIs against Bangladesh - but, more importantly, he would pass the 'eye test,' finally resembling the man that had been so potent in the previous year.

"Piyal sir helped me a lot after changing my action. I used to send videos to him and get more information from him," he would tell the media following the latest outing on his comeback trail, a five-wicket haul on the opening day of the first Test against New Zealand in Galle.

"I am really happy with my bowling after change in action. There's no big change but I have totally forgotten the old action. Now I'm just keeping my arm at a certain point and that's the only change."

In Galle, you could also see a growing maturity; where once was a bowler dependent on his many variations - the off break, leg break and googly - now was one content with utilising more guile and nous, the traditional weapons of the spin-bowling craft.

This was highlighted by the decisive way in which he switched ends on the opening morning, having realised that the end he had started at from was not as conducive to spin.

"In my first two overs, I didn't get much of turn but I spoke to Dimuth [Karunaratne] and changed ends. And it worked."

Indeed, along with the change of ends, Akila soon gauged the pace of the wicket and adjusted accordingly. Having started off with flatter trajectory deliveries around the 80kmph mark, he soon switched it up to more flighted deliveries tossed up slower, plunging into the low 70s. His length too remained faultless, always attempting to keep the batsman in two minds as to whether come forward or stay back.

When Tom Latham edged to the keeper after an indecisive back foot waft outside off stump, Akila's persistence was rewarded. He would soon have Kane Williamson too back in the pavilion - a rare duck for the New Zealand skipper. Both dismissals were coerced through line, length and stock offbreaks. But sensing hesitation in the New Zealand ranks with the lunch break looming, Akila would finally dig into his bag of tricks.

"I bowl the off spin more often than others but shift to the googly and leg spin when I want to take a wicket." And so it was the googly which did Jeet Raval in, having batted so cautiously for the better part of two hours, only to be done in by an ill-timed, misjudged forward defence, which could only produce an edge to slip.

Off all the New Zealand batsmen, only Ross Taylor and Henry Nicholls negotiated Akila with any merit. Speaking after the game Nicholls, ranked fifth in the ICC Test rankings for batsman, was full of praise for the spinner.

"The ball certainly spun a little earlier than we thought, but we expected it to be turning. The way Akila bowled throughout putting pressure on us - it was tough.

"With the ball turning away he's got a few options. He's a very good bowler as well. He deserved a five-wicket bag today."

For Sri Lanka, Akila's return to form bodes well, and all those involved will hope that the days of career setbacks are well behind him.